Case Study
Low-Moisture Cleaning Maintains Carpets Efficiently
---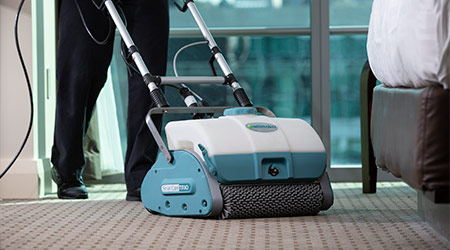 Contributed by R.E. Whittaker Co.
Founded in 2011, Boston Building Maintenance, LLC (BBM) is a janitorial service provider, owned and managed by the sister-brother team of Brittany Hampton and Jonathan Beale. From carpet and tile cleaning to window washing to emergency response cleanup, the enterprise offers a variety of services for commercial offices, healthcare facilities, hotels, and single and multi-tenant buildings.
"Since our founding, we've been able to translate our success in the healthcare industry to other verticals to provide strong cleaning services at a variety of facilities," says Hampton, founder and CEO. "Carpet maintenance is key because it sends a message about caring to customers and employees, creates a healthier environment, and helps extend the life of the carpet."
BBM had been relying on a standard shampoo and extraction method to clean carpet across its customers' facilities. But in 2019 the company won a contract with a hotel property that required its building service contractor (BSC) to use carpet cleaning systems from Whittaker, provider of low-moisture carpet encapsulation systems.
The hotel property had wool carpet installed and knew that Whittaker's low-moisture system provided a consistent clean with WoolSafe-approved chemistries. Encapsulation cleaning combined the power of crystalizing polymers with detergent components to bind dry and oily soils with the chemistry. Custodial crews could then remove the remaining particles through vacuuming.
Whittaker's interim carpet maintenance system is comprised of the Smart Care TRIO machine and a comprehensive CRYSTAL Chemistry range for a variety of stains. The TRIO machine features three counter-rotating brushes to lift the carpet pile and agitate the chemistry at the same time. This results in a more consistent clean that does not damage carpet fibers in the process. The process also uses less water and allows carpeted areas to dry quickly.
BBM used three TRIO machines and Whittaker's complete line of chemistry to clean carpet daily at the hotel. The company also plans to introduce the system at 15 other facilities it manages across Boston.
"From an efficiency and effectiveness standpoint, the Whittaker system is night and day compared to hot water extraction," says Hampton. "Plus, Whittaker's customer service is amazing. Their responsiveness and willingness to provide hands-on training sets the standard for what customer service should be. They have me as a customer for life."
With Whittaker's machines and chemistry now part of its carpet care routine, Boston Building Maintenance has achieved the following benefits:
Enhanced productivity. Thanks to Whittaker's system, BBM's employees can make one pass across carpeted areas, whereas the previous approach would take multiple passes to fully remove stains. This allows employees to finish carpet care tasks in less time and avoid customer callbacks to address reappearing stains. Additionally, the low-moisture process has a much shorter dry time, which allows staff to clean carpet faster, resulting in cost savings for BBM and its customers.
Customer satisfaction. Because Whittaker's machines and chemistry remove stains on the first attempt, the hotel is extremely satisfied with the appearance of its carpet.
Improved employee satisfaction. The Whittaker machines are much lighter and ergonomic than hot water extraction machines. This results in less strain on employees, who are happier using this system.
Disclaimer: Please note that Facebook comments are posted through Facebook and cannot be approved, edited or declined by CleanLink.com. The opinions expressed in Facebook comments do not necessarily reflect those of CleanLink.com or its staff. To find out more about Facebook commenting please read the Conversation Guidelines.