Introducing BSCAI's COVID-19 Disinfection & Safety Course
Lessons Help Protect Employees And Customers
---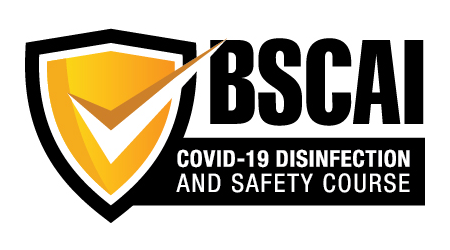 Reassure your customers and protect your employees by earning the brand new COVID-19 Safety & Disinfection Certificate from BSCAI. Though many companies develop training that covers safety and disinfecting techniques, this is the only course that provides a certificate of completion for each employee.
What is Unique About This Disinfecting Course?
BSCAI developed this comprehensive course in conjunction with Stephen Ashkin, a world-renown expert in the janitorial industry and a veteran trainer. This course has passed rigorous contractor peer review, and has the technical accuracy to exceed the expectation of your customer and the practical training that your employees expect from you. The training follows CDC, EPA and OSHA guidelines for COVID-19 disinfection.
Unlike supplier training programs, BSCAI's COVID-19 Disinfection & Safety Certificate is brand agnostic and works with your unique systems.
What is Covered?
The course is comprised of five sections, including:
Infection Control and COVID-19
Worksite Safety Precautions
Defining Cleaning and Disinfecting
Proper Cleaning Procedures
Documentation and Communication
Once all five sections have been successfully completed, the student will be issued a BSCAI's COVID-19 Disinfection & Safety Course certificate.
How Do I Get Started?
This three-hour course costs just $75 per employee for non-BSCAI member companies and does not expire or require any continuing education credits to maintain. Save even more when you become a BSCAI member, as well as many other benefits you and your company will enjoy.
Show your customers that you have invested in your employee safety and training on CDC, EPA and OSHA guidelines related to routine disinfection for COVID-19 and other infectious diseases that could threaten occupant health and safety, which is more important now than ever.
To learn more, visit bscai.org.
---