When To Repair Or Replace Equipment
Knowing The Right Time To Buy New Carpet Equipment
---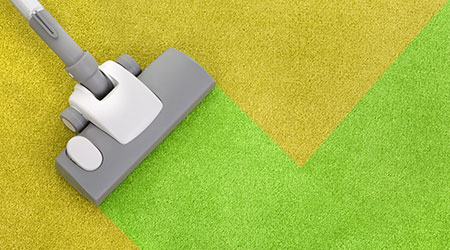 To repair or not to repair? That's the question building service contractors wrestle with when it comes to broken carpet care equipment. Or, to put it another way: When is it better to repair a machine and when is it more cost-effective to simply replace it?

This decision can at times present a real puzzle for contractors. A "reputable service company" can prove a useful ally in this effort, says Scott Bland, sales team leader for KSS Enterprises, a Kalamazoo, Michigan-based jan/san distributor.

"Contractors can work with their distributor partners to diagnose the main components of the equipment and cost out the parts and labor involved," says Bland. "Some contractors prefer to purchase parts on their own and do their own repairs, saving labor. This may end up being more costly as there could be underlying factors on why a component fails."

A qualified technician can detect if there's an underlying cause behind the failure, helping the contractor make a more informed decision, says Bland.

"Technicians can also tell if the equipment isn't being maintained properly or has been abused by employees or operators of the contractor and can advise accordingly," he adds.


Used And Abused
Vacuum cleaners are typically the most used in anyone's arsenal of carpet cleaning equipment and therefore receive the most abuse, says James Cook, service technician for JD Distributors, Inc., a jan/san distributor based in Union City, Tennessee.

Under most circumstances it will make sense to repair a vacuum cleaner rather than replace it, says Cook. This not only applies to normal wear-and-tear items such as belts, but even motors, although this depends on the quality of the machine, he adds.

Vacuums run the gamut from very cheap with a short lifespan to high-end models intended to last a long time. This makes it challenging to advise on repairs, says Bland.

For example, in the case of one that was purchased new for $250 but is now facing a repair cost of $150, it may make more sense to simply replace it, he says.

But even so, before automatically arriving at any conclusion involving a particular machine, building service contractors should consider the following: the vacuum's age; how it has been performing up to that point; if it has a history of breakdowns and if these have been coming closer together; the potential downtime related to the repair; if the repair involves a major component or many small parts; how important the piece of equipment is; and, of course, costs and budgets.

"If the equipment has constant problems and the operators have constant downtime, this may indicate replacement," says Bland. "A good service technician can advise the contractor on the future shortcomings of the equipment and can also advise on what may break down next. [They're] not fortune tellers, but the better ones, who have worked on various types and brands of equipment, can, from experience, advise the contractor on what may go next."

The best way to avoid the repair-or-replace conundrum — or at least delay it for as long as possible — is preventative maintenance and regular inspection, says Cook. Depending on ease of access, he suggests taking the machine apart and checking the belts and hoses for signs of wear, tearing or cracking.

It's also important to inspect the filters. Most newer vacuums have HEPA filters on the exhaust side that will accumulate dirt over time, which can cause the motor to overheat, says Cook. Also inspect the power cords, a component Cook calls a "high-failure item." As he explains, power cords see a lot of action and receive a fair amount of abuse, because people will run over them or wind them up in ways they shouldn't, kinking them.
next page of this article:
Janitor Training, Machine Maintenance Extend Life Of Equipment
---