Faces Of The Frontline
Hugo and Johana Turcios, Bearfoot Ventures
---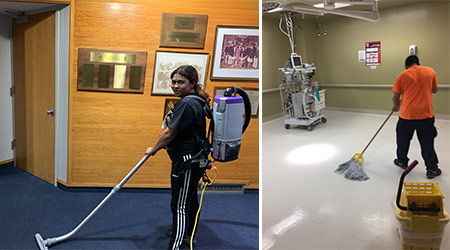 Hugo and Johana Turcos are a father-daughter duo that exemplify exactly what a good frontline worker should be, even when life and work don't go as planned. As a supervisor for Bearfoot Ventures, Tysons Corner, Virginia, Hugo has played a vital role in the early success of the company. He knows that he is counted on to complete his duties and takes a proactive approach to cleaning. Johana is a nighttime janitor for the company with a great attention to detail. Both father and daughter complete all of their duties, and then some.
"Their proactive approach to cleaning was on full display when they caught a toilet leak one night, and our team was able to alert the client so as to not come back to a flood Monday morning," says Jeb Byrne, company CEO. "They take a meticulous approach to their craft to ensure that their work attributes to the marketing of the client's site. Because of their honesty and dedication to Bearfoot Ventures, we hold all of their references in the highest regard."
Byrne praises Johana's ability to lead by example — not just at work, but in her personal life as well.
"She balances school, work and a heavy heart," says Bryne. "She takes a lot of pride in her work going so far as to perform her shift later than normal if an emergency comes about because keeping the building in pristine condition is of the utmost importance to her."
Hugo and Johana still maintain an excellent "can-do attitude" despite the fact that life has brought them significant struggles that no family should ever have to go through. They continued to come to work as their son and brother battled a rare disease.
"The two work as a fantastic team taking on more responsibility for each other as they split time between work and visiting their loved one in the hospital," says Bryne. "It truly takes a strong individual to tackle each task with the fervor that Hugo and Johana do. The smile that they bring to work every day is contagious, and we are proud to call them members of the Bearfoot Ventures family."
Each month this section will recognize an outstanding frontline janitor. To nominate a deserving employee, email jake.meister@tradepress.com.
---