Lending A Hand With Dispensers
How To Promote Hand Sanitizer Usage
---
BY James DeGraff, Associate Editor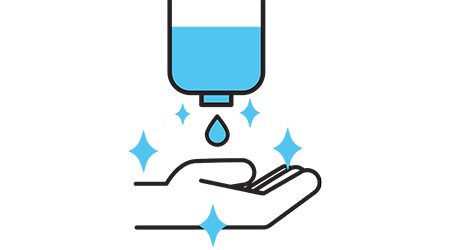 Most people have heard the saying, "You can never have too much of a good thing." Whether or not that's actually true is strictly situational. But when it comes to hand sanitizer, the damage from using it in excess can be surprisingly detrimental.
For all its chaos, the pandemic brought a few silver linings to the commercial cleaning industry. Chief among them was an increased focus on the importance of hand hygiene. At higher rates than ever, facilities ranging from schools to churches were flooding distributors with requests for hand sanitizer dispensers and stands. Though initially good for business, many facilities eventually succumbed to the pitfalls of dispenser misuse, misplacement, or a lack of an organized plan for managing their hand hygiene programs.
"It's been a learning curve, and I can tell you this: I sold more instant hand sanitizer over the last two years than I did the first 17 years of my career," recalls Bill Allen, territory manager for Fagan Sanitary Supply, a jan/san distributor in West Elizabeth, Pennsylvania.
Damage to walls, floors and an increase in slip-and-fall accidents are just a few of the consequences stemming from a disorganized hand sanitizing program. However, by consulting with a distributor partner, building service contractors (BSCs) can gain a better understanding of common damages and repair strategies, ideal dispenser placements, and develop a system that will boost hand hygiene while keeping facility occupants safe.
Common Hurdles
While it's important to supply a hand sanitizer that is at least 60 percent alcohol, per Centers for Disease Control and Prevention (CDC) guidelines, the isopropyl solvent is the key catalyst for damages, notes Tom Scallan, equipment specialist at Imperial Dade, Jersey City, New Jersey. The most common recipient of said damage is floor finish, which is also the priciest due to a costly and difficult repair process.
Scallan adds that the increased enthusiasm for dispenser use, while promising for infection control, means that damage can pile up quickly without the correct prevention setup.
"If you catch it early enough, you might get lucky and be able to clean the floors and burnish out the damage," Scallan notes. "But usually, repairing the damage means stripping the finish completely and re-applying new finish. This takes a lot of labor, and the purchase of supplies that would otherwise not be needed. It can become very costly."
When it comes to mitigating floor damage, Allen recommends taping off particular areas and designating them for aggressive abrading and spot-coating. Doing so can remove the visual effects caused from sanitizer drips — including the white cloudy film that commonly occurs — and, more importantly, reduce potential loss in slip resistance from the finish.
To minimize this labor and the associated costs, distributors encourage BSCs to utilize appropriate drip trays and place floor mats under sanitizer stands. The benefits will be two-fold: mats will collect drips, but they will also neutralize friction and overall movement, which can scratch floors.
Like its carpet counterpart, matting will discolor as drips of alcohol sanitizer leeches out the dies. Fortunately for BSCs, replacing small mats is easier on the budget than expensive stripping and refinishing of floors or frequent replacement of carpet tiles.
Floors aren't the only area for concern when it comes to hand sanitizer damage, however. Allen says countertops can be vulnerable to improper dispenser placement or a lack of protective drip trays, often at check-in areas or other parts of facilities that previously wouldn't have a dispenser on-hand.
"If a dispenser is placed directly above a countertop, over time the excess alcohol exposure from the sanitizer can cause discoloration. This is an even bigger problem than if it's dripping on a floor," says Allen.
With so much attention given to drips, BSCs often overlook less obvious areas of concern when it comes to the placement of hand sanitizer stands.
"Walls are another potential target for damage caused by misused dispensers, especially in stadiums and arenas," Scallan adds. "Fans tend to get upset when their teams lose, and unfortunately, they love to take it out on the nearest dispenser or stand."
It won't necessarily protect the dispensers themselves, but pulling sanitizer into open areas can prevent wall damage. Positioning dispensers in the middle of common traffic areas might also encourage more frequent use.
next page of this article:
Distributor Guidance Key To Hand Sanitizer Programs