Electrostatic Provides Extra Protection During Flu Season
How One BSC Prevents Illness Using Electrostatic Tech
---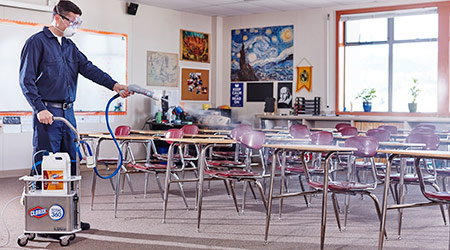 In a continued commitment to better protect its community, All4You Cleaning Services, Lakewood, Ohio, invested in the Clorox Total 360 System from CloroxPro, Oakland, California. The addition of the system will support All4You's new #LETITSHINE program that aims to employ youth who have aged out of the foster care system, allowing them to gain work experience for future success. The Clorox Total 360 System will be used by program members to learn proper cleaning and disinfection protocols when cleaning a customer's facility.
With this year's flu season underway, All4You Cleaning Services recognizes the importance of getting ahead and illness prevention. With the extra layer of protection the Clorox Total 360 System provides, the team is now equipped to prevent the spread of illness-causing germs year-round.
"At All4You, it's been our mission since day one to serve our community with the highest standards and that goes beyond the job," says Melinda Gonzalez, owner, All4You Cleaning Services. "I do my due diligence to personally test every single product used by our staff before using it in our clients' homes and facilities. Our company uses many CloroxPro products, so the decision to include the Clorox Total 360 System in our arsenal of disinfection tools was easy as I trust the brand's quality and support."
High-touch surfaces in public spaces are breeding grounds for commonly spread pathogens that lead to highly contagious outbreaks and can be detrimental to facilities, from losses in productivity to reputational damage.
The Clorox Total 360 System works by using electrostatic technology to charge Clorox disinfecting and sanitizing solutions. The charge attracts the solutions to surrounding surfaces with a force stronger than gravity allowing them to uniformly wrap and coat surfaces, including even the hardest-to-reach areas that manual cleaning often misses.
All4You Cleaning Services currently services a roster of residential homes, office spaces and commercial sites. Now equipped with advanced electrostatic technology, the company is expanding its cleaning and disinfecting offerings to a wider range of clients including local daycare centers, nursing homes, gyms and schools to help safeguard against preventable illnesses like the flu or norovirus throughout the greater Cleveland area. The Clorox Total 360 System will be used as an additional tool to disinfect surfaces daily in areas including restrooms, hallways, playrooms and equipment areas.
Gonzalez, who grew up in the foster care system, has made it her mission to support her customers and employees alike. She started the #LETITSHINE program as an educational resource for her employees to build confidence in their professional abilities in addition to workforce experience.
"Supporting foster care youth is a passion of mine and as a former child of the foster care system, I understand the difficulties that these children face," says Gonzalez. "With our investment in the Clorox Total 360 System, we are able to give back to the community in more ways than one. Outfitting our offerings with the latest disinfection technology allows us to provide advanced cleaning services to more facilities, in turn helping us hire more employees into our #LETITSHINE program."
---