Leaving An Impression
How BSCs Differentiate Themselves From The Competition
---
BY James DeGraff, Associate Editor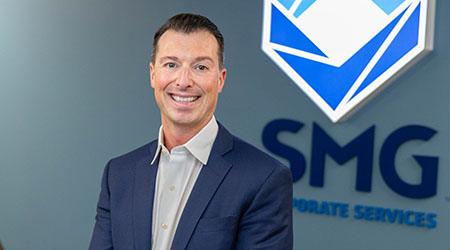 While the worst of the COVID-19 pandemic appears to be behind us in many regards, plenty of questions remain when it comes to re-opening facilities, interacting with clients, and alleviating any employee or client stress pent up over the past year.
To gain some insight on how building service contractors (BSCs) can continue to maneuver these challenges and differentiate themselves from the competition, Contracting Profits sat down with Scott Weintraub, president of SMG Corporate Services in Hartford, Connecticut. Below are his responses.
There has been some conflicting information when it comes to best practices on disinfection, selecting the right equipment and overall guidelines for keeping people safe. How can BSCs set themselves apart and be properly educated/prepared for their customers?
The best ways for BSC's to set themselves apart is through third-party certification/accreditations. A great example of this is the COVID-19 Disinfection and Safety certification from Building Service Contractors Association International (BSCAI). These certifications show your customers that you are committed to the health and safety of their facility, tenants and staff.
The BSCs that took the largest hit from the pandemic failed to diversify enough. What sectors do you anticipate a continued demand in, and what tips do you have for BSCs looking to diversify their client portfolio?
Commercial real estate, specifically multi-tenant facilities, took the brunt of the blow from COVID-19, and no one really knows how or if those facilities are going to rebound. One thing is for sure, companies are relooking at the amount of office space that they need and are looking at hybrid models.
BSCs would be wise to begin focusing their sales effort on critical infrastructure business, as defined by the Department of Homeland Security. Examples of these industries are distribution, logistics, healthcare, manufacturing, biopharma/life sciences, etc.
BSCs need to take a different approach to these facilities. They are often very interested in how you use technology for service delivery, as well as employee safety and specialized cleaning (clean rooms and machine cleaning).
Longer hours and ongoing increased cleaning frequencies can lead to mental health challenges. Has SMG incorporated any programs or best practices to provide support and alleviate stress for the employees?
The immediate needs that came with the pandemic were certainly a point of stress and mental health for everyone, especially operations. While we did not have a specific program in place, myself and our executive team did a lot of check-ins with our managers to see how they were doing and got them additional help when needed. We also gave bonuses and paid to send our employees out to dinner with their families. These are just a few of the things we did to try and alleviate the enormous stress everyone was under.
All the attention on cleaning has facility executives questioning the benefits between in-house and BSC services. How can BSCs best identify potential new customers, and what are key arguments to bring up in favor of shifting to a BSC's services?
Large commercial facilities have been outsourcing cleaning services for years and I see no change in that. The facilities that still tend to have some degree of in-house staffing are universities, K-12 municipal schools, private schools and municipal buildings. With the increased scrutiny of cleaning and the new demand for cleaning for health with measurable results, this has put a burden on in-house departments, which are typically much more lax than outsourced teams.
Combine potential liability as it relates to the pandemic and worker compensation and outsourcing suddenly becomes very attractive. We were called into several facilities like this to help supplement the in-house staff. Once they saw the difference in our approach, the conversation quickly changed to "we want to keep you." Also, typically, the benefit burden that these facilities have for their in-house staff is much higher than it would be for a BSC.
It's important facility occupants both are and feel safe as the economy opens back up. What assurances can BSCs offer clients when it comes to effective cleaning that is also safe and appealing to occupants?
There are a few things a BSC can do to help differentiate themselves. First off, this is your chance to be the expert/consultant when you meet with your client or prospective client. As mentioned before, a great way to set yourself apart is through third-party certifications. This shows the prospective client that you have invested time and money into making sure best practices are followed when it comes to cleaning and disinfection.
Putting together some type of back-to-work program as it relates to cleaning — and having that readily available — is another great differentiator. As BSCs, we are the experts, so having a very consultative approach with the client makes them feel comfortable with you and your company.