In The Field: Teaming Up
How BSCs Benefit From Manufacturer/Sports Team Partnerships
---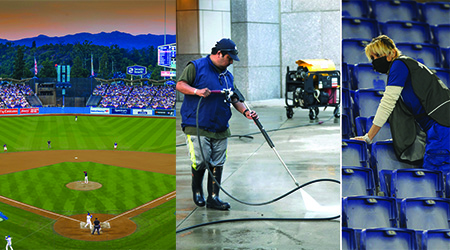 Despite the ongoing pandemic, Americans are flocking to venues around the country to cheer on their favorite sports teams. The return of these large gatherings puts new pressure on building service contractors (BSCs), who play a critical role in keeping fans and players healthy.
To do their part to promote safe environments, many teams are signing exclusive partnerships with chemical manufacturers to supply disinfection products and protocols. These contracts can both complicate and elevate BSC work.
Additional Responsibilities
Even in the best of times, cleaning stadiums and arenas is a mammoth task. They house millions of square feet, high-volume traffic and fast-paced events — all factors that complicate the cleaning process.
"In addition, once an event concludes, we often face situations where the entire venue needs to be flipped overnight for another event the very next day," says Chris Braden, branch manager for New York-based ABM Sports and Entertainment, the BSC for Sofi Stadium, Dodgers Stadium, STAPLES Center, and more.
These challenging circumstances require efficient time management and streamlined processes. That's increasingly true now that BSCs face more scrutiny and concern about safety in the age of COVID-19.
"Now that we are at the tail end of a pandemic, guests are all very aware of their surroundings and want reassurance venues are doing everything within their power to deliver a clean, healthy, and safe environment to attend an event," says Braden.
To facilitate the return to in-person events, venues are adding extra layers to their already established disinfection programs, which can make cleaning arenas and stadiums far more complicated for BSCs.
"It's impossible to know if anyone has been exposed to an infectious disease before they enter the stadium, so anything that someone could put their hands on, we need to disinfect," says Guy Mingo, CEO of Marsden Holding in St. Paul, Minnesota, which cleans Target Field, Huntington Bank Stadium and CHS Field.
In the past, during a big event, cleaning crews focused on removing trash, sweeping and mopping floors, replenishing supplies, and cleaning and disinfecting restrooms. Today, there's the additional need to frequently disinfect all touchpoints, including railings, handles, elevators and tables.
"We're doing the same type of work, but we're doing it more often," says Robyn Donaldson, CEO of Renew Construction Services, Tampa Bay, Florida, which cleans Raymond James and Camping World stadiums. "What we used to do at the end of the night, we now have to do every 5 minutes throughout the event."
In addition to public-facing disinfection, there is also the work of sanitizing behind-the-scenes spaces like locker rooms, offices and meeting spaces. BSCs must become time-management masters to accomplish these tasks.
"We have to protect the players and officials through our disinfection programs, without disrupting their efforts," says Mingo. "There's a lot of communication that must happen, whether it's on game day, or other days when coaches and staff are working."
next page of this article:
Managing Elevated Staffing, Training Protocols