Faces Of The Frontline
Faces of the Frontline Honors Jacob Solis, Los Angeles Habilitation House
---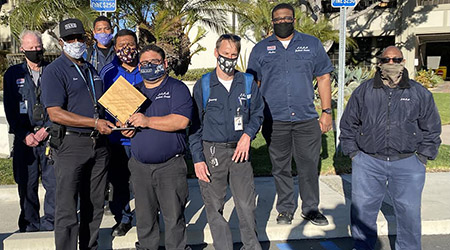 It's officially award season for Jacob Solis. Not only is the Los Angeles Habilitation House Custodial Specialist the latest "Face of The Frontline" honoree, but he's also the winner of the "Passionate Heart for the Other" award. The Passionate Heart for the Other is named after Patrick O'Melveny, a former Los Angeles Habilitation House worker who showed a lot of love for others during his short, but beautiful life.
Solis and other winners of the award are honored because they, too, have made a positive impact on others through their dedicated work at Los Angeles Habilitation House, a non-profit service provider that helps people with disabilities find janitorial, custodial, building services and administrative jobs.
In his roughly two years as a member of the Los Angeles Habilitation House janitorial team in Torrance, California, Solis has been a model employee. He's taken on his main duties as a light duty, restroom and vacuum specialist with enthusiasm. Always willing to learn, Solis asks great questions and even requests additional training, which is something managers everywhere can appreciate.
"Recently, a team member stayed home for a few months due to health complications," says Nancy Albin, vice president at Los Angeles Habilitation House. "When this team member returned to work, Jacob was attentive, compassionate and extra helpful, even to the point of slowing down his work to stay on pace with the team member, just in case he needed something during work."
It was this compassion for his coworkers that earned Solis the additional attention from executives.
"When we realized that Jacob was taking care of how this team member was doing on his first days back, we wanted to celebrate the kindness and generosity," says Albin of Solis' recent honor. "He just loves helping others."
Each month this section will recognize an outstanding frontline janitor. To nominate a deserving employee, email corinne.zudonyi@tradepress.com
---