Faces of the Frontline
Faces Of The Frontline Honors Hermenegildo Cruz
---
BY Jake Meister, Associate Editor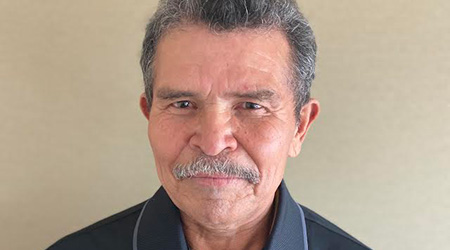 The COVID-19 pandemic has frightened countless people. With its ability to spread with ease and by people who had shown no real signs of carrying the virus, COVID-19 sneakiness makes it a scary, invisible threat. This mysteriousness — along with the fact that the virus has the potential to kill — caused some to quit or refuse work that they felt exposed them to the virus. Not Hermenegildo Cruz.
In the early days of the pandemic — before we know much about the virus that we know today — Cruz was one of the select few employees at McLemore Building Maintenance in Houston who was willing to perform his janitorial duties in an area where an exposure might have occurred.
"On one particular evening, the entire staff walked off the job when they heard of a positive case in the clinic, and Mr. Cruz was the only employee who stayed behind with [me] to ensure the clinic was cleaned for all patients and staff," says Amanada Quiros, manager of McLemore Building Maintnance's Houston branch. "He remains a staple of dependability throughout the pandemic, and continues to be the first to arrive and ready to accept any challenge."
A 21-year employee of McLemore Building Maintenance, Cruz became someone the company could trust long before the pandemic hit. He works part-time at two separate job sites; one a prestigious clinic in the Houston area and another a building owned by the city. Between the two locations, Cruz puts in up to 40 hours of work per week. At the clinic, Cruz is responsible for removing biohazardous waste, cleaning and disinfecting important areas, such as patient rooms, and cleaning the carpet on each of the six floors.
In 2017, Hurricane Harvey — a major Category 4 storm — caused significant damage to Houston. The heavy rain flooded the city's streets and even seeped into the clinic where Cruz works. Despite the high water, Cruz made it to the job site every day and worked tirelessly to clean up the damage it caused to the clinic.
In 2018, Cruz again had to clean up a big mess at the clinic, only this time the flooding was caused by a burst sewage pipe. Not only did Cruz have to remove carpet that had been damaged, but he also had the ghastly task of cleaning up the waste on both the clinic's second and third floors. Despite the unpleasantness of the duty, Cruz did the work with a positive attitude, which is something that has been the norm throughout his tenure.
"Mr. Cruz is always willing to help his coworkers and is the first to step up when a dire situation arises," says Quiros. "His ability to teach others allows him to contribute to the future growth of our company. Overall, Mr. Cruz embodies all the characteristics of an exemplary employee and one who represents McLemore very well."
Each month this section will recognize an outstanding frontline janitor. To nominate a deserving employee, email jake.meister@tradepress.com
---