executive interview
Executive Interview: Don Zerivitz
---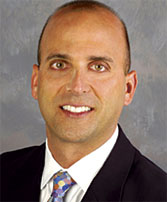 Most business owners would never think of doing what Don Zerivitz, president of Pro Clean Building Maintenance, Altamonte Springs, Fla., has done: he's opened his books for all in his organization to see, and it hasn't hurt him at all.
The 48-year-old businessman, who grew up in the fourth generation of a family commercial bakery in Orlando, always knew he wanted to manage and lead his company in a positive and people-friendly way. When he ran the family bakery after graduating from Tulane University, he did just that. And 10 years after he left the baking industry and started a janitorial company with his brother, he discovered a management style that would change his company forever.
Zerivitz read about open book management in "The Great Game Of Business," by Jack Stack. The book chronicles the story of SRC Holdings Corp., and its remarkable financial turnaround thanks to a management philosophy that teaches employees how the "game" of business success is played by giving them important financial information.
He was sold: hook, line and sinker.
"They took people who, traditionally, had no idea what was happening financially in the business that they work for and turned it around 180 degrees so that they knew everything that was going on," Zerivitz says. "So for me, it was a leap of faith. I'm going to open up my books and I'm going to share with people exactly what happens here."
So after a trip to SRC in Springfield, Mo., Zerivitz began a basic financial literacy educational program for his employees, teaching weekly classes himself. The classes teach employees two things, he says: how their jobs relate to the financial success or failure of the company and how to become a more responsible decision-maker at home.
And eight years into its implementation, he attributes his company's success — and employee satisfaction — to open book management.
Breaking with bread
Zerivitz went to work at his family's bakery as young as 10 years old, so he understands repetitive, manual labor. After going to college with hopes of being a dentist, and coming out with a business degree instead, he was "talked into" going into the family business.
"Eight years later, I'm running a large business that ran 24-7, 365 days a year, six shifts. I said, 'I don't want to do this the rest of my life!'"
So he and his brother Lee transitioned slowly out of the business while they were looking to buy another company.
In the end, the brothers purchased four small accounts from a mom-and-pop cleaning company and started cleaning by night as they dealt with the bakery buyout by day.
Cleaning proved to not be so easy, as the two found out during the first year of Pro Clean's inception. One of the first nights cleaning a new account, he remembers pushing a vacuum around the corner only to find the carpeting "literally smoking" thanks to bowl acid his brother had just dropped.
"So it was kind of amazing — it was our first night at this and we're already running at a loss," laughs Zerivitz, who recently bought out his brother's half of the business.
But he did know that there were plenty of people who were good at cleaning, liked doing it and took pride in their work. Janitors stay in their jobs for years is because of their coworkers and work environments, he says, so a critical value for Pro Clean is to "work hard and have fun." That means getting to know employees and continually surveying them on what the company can do better to eliminate hassles or difficulties.
"In here, it's like a comedy show some days," Zerivitz says. "I think one of the key drivers to people's satisfaction here is that it's OK to enjoy yourself, it's OK to play, it's OK to laugh — you can do so many things, because I'm not going to step on it."
Opening the book
The secret of "The Great Game Of Business" is creating a culture of ownership in a company by educating employees to understand that they play an active role in influencing the bottom line.
The philosophy does not involve only financials. The management culture includes "mini-games" which focus on changing specific issues and behaviors. Sometimes the games — basically, challenges to make marked improvements in identified areas — differ by department or by time of year, but they are always relevant and they continue until the goal is reached. Whether dealing with sales or collections or overtime or operations, the games provide some incentive for workers to improve performance.
"We just finished a mini-game on over-budget hours," Zerivitz says. "We were running about $22,000 a month and now we are averaging about $2,000."
One of the greatest benefits of open book management is that people understand how their job affects the financials of the company, he says. When they talk about overtime or going over budget, it's not just numbers to them.
"And the fact they have 401K and profit-sharing, plus I share with my key group 25 percent of our net earnings, and they begin to take a look at the thing and say, 'If I have an over-budget dollar, that's one less dollar that we're going to split up at the end of it,'" Zerivitz says.
Employees are then rewarded by being able to positively affect financials, and they are aware of the state of the company at any given time. There are no surprises ­— workers know if things are up or down or flat. At times, Zerivitz admits, it's been hard to share information because it didn't look so great.
"Running open book makes you put your ego in check and stand in front of everyone and you're standing up there naked and all you have is your numbers to cover you up and you've got to deal with it," he says. "But most importantly, they've got to deal with it, too."
Those CEOs that do embrace open book management understand that even if financial information isn't being shared, employees are probably making it up anyway, and have their own perceptions about how much money the business is making, says Rich Armstrong, president of The Great Game of Business Inc., a subsidiary of SRC Holdings.
"When you give them the facts and give them the actual information about the business, they take a greater responsibility for how to improve the business or take care of the business," Armstrong says, using the analogy renting vs. owning. Just as people take care of a car they rent differently than one they own, they will take more responsibility for a company they feel they have a stake in.
Open book management also builds trust between employer and employees. As many BSCs know, trust can be very hard to come by in the cleaning industry. Lots of employees, no matter who they work for, don't understand the costs of running a business and think the company owner is "a bazillionaire," says Paul Hournbuckle, vice president of operations for Pro Clean. When workers finally understand the bottom line and profit margins, they also understand where their paychecks come from — and that they need to be earned.
Employees appreciate that open book management has helped Zerivitz take his company to a whole new level.
"I believe when he took this leap of faith, that he really grew as a leader, too," Hournbuckle says.
CleanLink: Additional Info
Out of the Blog: The World Of Contract Cleaning


BSCs can communicate about much more than financials with their employees, creating open lines of communication that yield relationships and encourage improvement. Read more about some of Pro Clean Building Maintenance President Don Zerivitz's tactics in Deputy Editor Lisa Ridgely's blog, "Open Communication."
Disclaimer: Please note that Facebook comments are posted through Facebook and cannot be approved, edited or declined by CleanLink.com. The opinions expressed in Facebook comments do not necessarily reflect those of CleanLink.com or its staff. To find out more about Facebook commenting please read the Conversation Guidelines.