cover story
Embracing Sustainability
---
BY Lisa Ridgely, Deputy Editor of Contracting Profits
As far as cleaning industry trends go, there are none bigger than those of green products and sustainable practices. Over the past decade, "green" has taken the industry by storm, helping to transform images and attitudes about cleaning and those who perform it, resulting in an invigorating makeover for an industry many perceived as stuck in the past and slow to adapt to change.
The green trend was founded on the principle that products, equipment and practices should not harm janitors, building occupants or the environment, while not being financially prohibitive.
The idea of green has since evolved to the more holistic mindset of sustainability, which includes energy and fuel savings as well as product life-cycle considerations. Sustainability has become somewhat of a moral imperative for some building service contractors, who consider it the right thing to do.
Cradle-to-grave thinking — or considerations of the ecological ramifications of product or practice from creation to disposal — is the focus of many BSCs' efforts to become more sustainable. Caring about the entire process means knowing where products come from and where they're going.
Varying Definitions
Sustainability can be defined in numerous ways, according to respondents of a Contracting Profits survey. Many cite a popular definition tracing back to a 1987 United Nations conference: sustainable developments are those that "meet present needs without compromising the ability of future generations to meet their needs."
Environmental stewardship is an important part of sustainability for many business owners and consumers. Roger Simpson, president of KISS Janitorial in Austin, Texas, cites the U.N. definition as well as that of the Iroquois tribe, which considers impact seven generations into the future.
"It should never be about how much we have to spend or want, but how well we spend it," Simpson says. "The concept of stewardship infers that we really don't own things, but we are just temporary caretakers of whatever we presently control."
While many BSCs support sustainable practices and invest in cradle-to-grave thinking about the resources that are used creating and maintaining equipment, it's hard to forget another definition of sustainability: that which applies to themselves as businesses.
"As a businessperson, sustainability is having a regular rotation of clients to sustain your business," says Susan Daly, president of Daly Cleaning Services in Golden, Colo. "As a green concept, I'm looking at how do I provide products and services that are not depleting the resources they came from but allowing them to continue to grow and continue to produce."
The two definitions are equally important to many contractors, especially during a time of recession, and are certainly not mutually exclusive. Other BSCs said they see sustainability as an ability to adapt to change, keeping customers happy and implementing cleaning processes that do not harm the environment.
Even though green cleaning is a growing sector of the business for many contractors, only 21 percent of them have switched solely to green products and processes, signaling a preference to let demand drive such a change.
"We believe in doing the right thing by giving our clients a spectrum of choices, then counseling them on how we can get to the next step in a long-term game plan," says Lance Ford, CEO of Palm Facility Services, Kensington, Md.
Responding to customer needs and desires by providing green cleaning — which is safer for workers, occupants and the environment — is just one part of sustainability. As the survey results indicate, BSCs want to go above and beyond "green," not only for their customers, but for themselves as well.
There are myriad ways that businesses can practice sustainability: recycling and waste reduction, water conservation, paperless office, daylighting, sensor temperature control, recycled carpeting and flooring, hybrid vehicles and solar power.
One of the most common sustainable practices for survey respondents is green cleaning in their own facilities. This is a great way, many say, to "walk the walk" and practice what they preach.
Practicing What You Preach
As green cleaning as a service has become more popular, many BSCs have implemented those programs they offer to customers in their own offices and facilities. Two-thirds of those polled say that BSCs need to practice what they preach, and that not cleaning green in their own facilities affects credibility.
"If you're not walking the talk, then you lose your credibility," says Mark Searcy, global operation support manager for Boca Raton, Fla.-based Coverall Health-Based Cleaning System.
Three-fourths, or 74 percent, of respondents say they offer green cleaning, and 64 percent perform green cleaning in their own offices and facilities. Other popular green practices are recycling programs or composting, fluorescent lighting, and waste reduction and water conservation efforts.
"Greening and making a true sustainable company starts from the top and goes down — not the other way around," Simpson says.
In lesser numbers, BSCs are also implementing paperless offices, sensor temperature controls, daylighting, carbon offsetting and recycled flooring. When asked which green practices they plan to implement in the next year, the highest interest was in green cleaning (41 percent), recycling programs (29 percent), paperless office (25 percent) and waste reduction (25 percent).
Each BSC needs to take sustainability at its own pace, depending on what is reasonable from an operational point of view as well as in a budgetary sense.
"We've changed light bulbs and watched energy usage" in addition to green cleaning company headquarters, Daly says. "And hybrid vehicles, that's coming. It's very expensive to just swap everything out all at once. But you can plan to do it."
J's Maintenance, Glendale, Calif., has invested in a few hybrid vehicles, as well as downsized trucks from six cylinders to four, to save gas. The company just finished installation of rooftop solar panels in early June, and thanks to a local municipal incentive program, it was much more affordable to do than it otherwise would have been, says Chris Waldheim, president. Someday, he says, they will be able to hook electric cars up to that energy source.
"The funny thing about a lot of these practices is, they end up saving you money," Waldheim says. "It's a double benefit, because it saves you money and it makes your customers happy to know that they're doing business with someone that is keeping their finger on the pulse and making moves as appropriate."
An internal company culture that supports the notion of sustainability can be established with the creation of a vision or mission statement, or with company initiatives. Cleveland-based GCA Services Group, for instance, has implemented not only sustainable product and procedural awareness but has also prioritized the behavioral aspects of the idea, says Jason Lee, director of sustainability and training for the company.
"Thus, all GCA associates are attentive to understand not only what, but also when, where, why and how their role as contract cleaners impacts the overall quality of indoor facilities and the environment," Lee says.
GCA is in the midst of tracking and measuring indoor environmental impact, which will be communicated to customers and building owners, Lee adds.
Taking Initiative
For now, especially with an economy that has forced customers to value low price over all, meeting customer needs and desires comes first — but some have found that proactively integrating green and sustainable practices into the equation is easy and pays off in terms of customer relations.
"We have integrated sustainability into all of our operations (e.g. personnel orientation, employee development, management practices, procurement, distributorship) and have narrowed our selection of corporate vendors who have similar objectives — in order for us to meet our customers' needs," says Lee.
There has been an increase in the creation and expansion of divisions within corporations that specifically deal with green and sustainable initiatives — such as Lee's division at GCA.
In addition to national certifications such as the U.S. Green Building Council's (USGBC) Leadership in Energy and Environmental Design (LEED), the U.S. Environmental Protection Agency's Design for the Environment (DfE), ISSA's Cleaning Industry Management Standard (CIMS), and third-party product certifiers such as Green Seal and EcoLogo, other smaller, more local states and municipalities have begun offering certifications of their own.
Thirty percent of BSCs say they are or will become members of the U.S. Green Building Council; 13 percent have LEED Accredited Professional (AP) staff members, and 19 percent have achieved or plan to achieve LEED certification for their headquarters.
The number of BSCs that can achieve LEED certification at their facilities is limited by the fact that many don't own their own facilities. Many are tenants and therefore don't have final say over not only huge projects such as LEED certification, but even over their own cleaning programs.
BSCs will implement changes where they do have control, and where there is an interest in providing expertise about green and sustainable initiatives. In the case of GCA, its headquarters are managed by a third-party property manager — whose interest in LEED certification is unknown, Lee says. However, GCA has several LEED APs on staff, including Lee, a LEED AP in Operations and Maintenance (OM).
Simpson says he's planning on becoming a LEED AP-OM this summer and soon after, plans to apply for LEED building certification at all five of the contractor's facilities. At this point, only one BSC, Porter Industries of Loveland, Colo., has had its headquarters LEED-certified.
All of this activity provides plenty of opportunities for building service contractors to get involved in organizations that help them become more green.
"I applaud organizations that have taken the initiative to do true third-party certifications for individuals, companies, buildings and processes," Simpson says. "It is my dream someday the USGBC will have a LEED certification for janitorial companies."
Like Minds
It's only natural that companies will align with others that share their values. BSCs implementing sustainable practices are finding that they are forming partnerships with customers and vendors who are also striving to be more sustainable.
"Like attracts like, and the more you do it, the more you find people who are either actively working on that path or interested in learning how to be a part of that," Daly says. "And it's a good thing, because you have to change. You just have to change."
While Daly admits that being in such an eco- and health-conscious state as Colorado doesn't hurt the green aspect of her business, there's also plenty of customer education to be done.
"You have to teach people what to look for and what to pay attention to," Daly says.
Lee believes the number of BSCs who decide to only green-clean will increase in years to come — as will the percentage of customers who want green cleaning.
"Those contractors either do not have a good working relationship with their clients or truly understand the partnership that is necessary to assist our facility managers, or customers, in obtaining environmental objectives or the triple bottom line impact we have with maintaining their facilities," Lee says.
The triple bottom line, which includes not just profit but people and the planet, is a pillar of sustainability that has been used in the cleaning industry for years. The cost aspect of sustainability is integral to any BSC's decision to change practices or adopt new ones. With energy being one of the top facility costs, implementing sensor temperature and lighting controls, or cutting down on water usage, are just a few ways to save money.
Green, sustainable practices often require a significant up-front investment in order to save money in the long-term. While that is daunting for business owners, those who are committed to sustainability are implementing practices in steps, for a gradual change.
BSCs can also easily save money right away, using the right amount of the right green products, says Daly.
"Unlike eating organic, cleaning organically and in an eco-friendly way is absolutely no more cost than doing anything else," Daly says. "In some cases, some of it's even cheaper because you use a lot less product."
Whether sustainable practices come about due to a passion for the environment or because they make sense financially, and whether big investments or small changes, they are growing fast in the contract cleaning industry.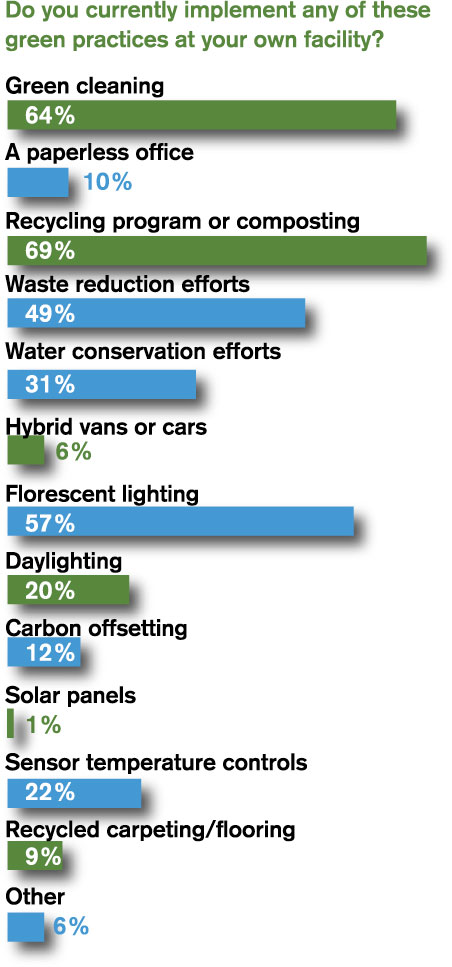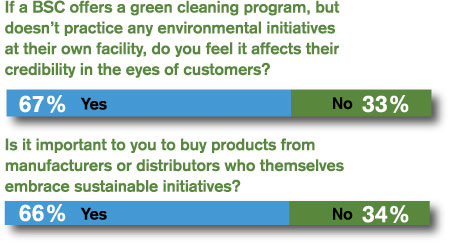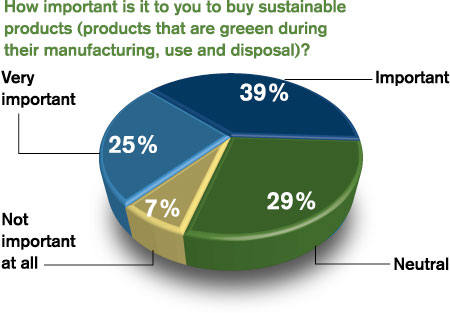 Disclaimer: Please note that Facebook comments are posted through Facebook and cannot be approved, edited or declined by CleanLink.com. The opinions expressed in Facebook comments do not necessarily reflect those of CleanLink.com or its staff. To find out more about Facebook commenting please read the Conversation Guidelines.