Case Study
Delivering A Superior Clean
---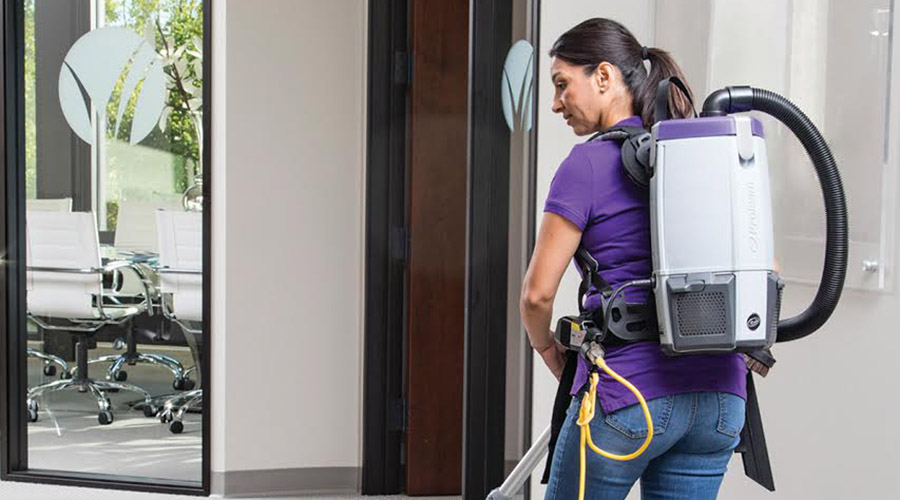 Contributed by ProTeam
As president and CEO of Service Keepers, Neal Berman has unique insight into the Miami-based company's broad portfolio of clients and their needs. Whether Service Keepers is cleaning elementary schools, high schools, colleges and universities, high-rise office buildings, high-rise condos, manufacturing facilities, or healthcare institutions, they aim to provide the highest level of service, just as they have done for over 30 years.
With more than 200 employees, 50-plus clients and over 5 million square feet to clean, the Service Keeper team is at it day and night, and they need a vacuum that gets the job done. Berman can list a host of reasons why ProTeam's Super Coach Pro 6 is the go-to backpack vacuum for Service Keepers. At the top of that list are unmatched cleaning, reliability and comfort.
With such a broad customer base and so many different types of buildings to maintain, finding a vacuum that works for a variety of surfaces and can clean hard-to-reach places may sound like a difficult task. The Super Coach Pro 6, however, answers the call.
"The six-quart corded version is the perfect solution for us," says Berman, "It's lightweight and ideal for cleaning a variety of floors, vents, baseboards, around tight corners, upholstery and furniture."
Combine the Super Coach Pro's incredible cleaning power with its increased efficiency, and people take notice.
"I feel comfortable saying efficiency time is cut in half going from uprights to ProTeam," says Berman.
However, the benefits of using ProTeam products go far beyond superior cleaning and efficiency. Berman feels the backpack vacuums in his current Service Keeper fleet outperform uprights.
"The reliability is night and day compared to uprights," he says. "You rarely have a problem — very little downtime."
The support Service Keepers has received in working with ProTeam has made for an incredibly positive experience.
"The customer service is great, we rarely have a problem, but if we do, ProTeam will fix it," Berman says.
Berman and the Service Keeper crew also prefer backpack units because of the superior comfort.
"In fact, shoulder pain is gone for our staff," he says. "This backpack vac is so much less strenuous to use."
The ergonomic design, minimal weight, and maneuverability of the corded Super Coach Pro 6 have positively impacted employee health.
"Since switching to ProTeam backpacks, I don't believe we have had a single injury related to them, which is incredible," says Berman.
With more than 100 Super Coach Pro 6's and 20 Super Coach Pro 10's in the field, Berman and the crew at Service Keepers are big fans of what ProTeam has created.
"For us, it's one of the best inventions in the cleaning industry in the past quarter of a century," he says. " We've been using ProTeam for over 20 years for a reason."
Disclaimer: Please note that Facebook comments are posted through Facebook and cannot be approved, edited or declined by CleanLink.com. The opinions expressed in Facebook comments do not necessarily reflect those of CleanLink.com or its staff. To find out more about Facebook commenting please read the Conversation Guidelines.