Down And Dirty: School Security Is Of Utmost Importance
Consider Employee Background Screening When Staffing Schools
---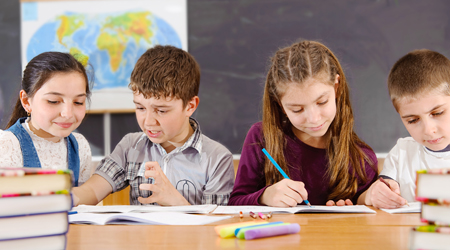 The education market is quite different from the commercial sector, where janitors work in empty buildings. In schools, cleaning staff work alongside students. Faculty and parents are most comfortable when they know who these workers are. Proper security measures are a must for any building service contractor servicing this market.

Let me start with a story about a BSC who lost a city contract to a lower-bidding competitor.

Less than a month into the new contract, the city's decision-maker called the losing BSC's general manager about some security concerns. He asked how the general manager interpreted the contract regarding security issues, specifically uniform shirts, background checks and drug testing. The general manager and the city's decision-maker both agreed that these points are a "given," (read: not stipulated) in the contract.

As it turns out, the lower-cost contractor wasn't doing any of these things. When questioned, the lower-cost contractor said it was taking appropriate security measures as stated in the contract. Without getting into a discussion regarding weakly written contracts, we can agree the original contractor did a pretty good job regarding security issues in the city buildings it cleaned. In the end, the original contractor was awarded back the contract.

If these security-related issues are important in a public building where armed guards and/or law enforcement may be present, how much more important are they in educational facilities? Schools represent an even greater need for security measures.

Each janitor working in a school should wear a uniform and a badge with his or her picture. Employers need to conduct background and drug tests on those employees, as well. Contractors may even want to conduct a search for pedophiles in the area. A standard background check may not reveal this information.

Are there other things that can be done? Are there other opportunities to serve the customer and to better assist the janitors in protecting themselves? Certainly a building service contractor with a security guard service is an attractive position to provide additional precautionary measures. Also, BSCs who provide landscaping, ice and snow removal, general maintenance, and other diversified services can be an asset to their education customers. Not only can these services probably be outsourced to you for less money, but limiting the number of vendors a school works with also reduces the chance of the wrong type of employee slipping through.

We used to consider schools a haven for our children; not anymore. The most horrific news reports have been the ones about school issues. One school in Oklahoma posted a permanent sign warning the public that some teachers and staff are armed. States will do whatever it takes to protect their students, faculty and staff. We have no idea what the future brings, what will be required to keep our children safe. But we know this: Building service contractors have a responsibility to make certain their staffs are well vetted, trained and protected.


Skip Seal is a trainer and consultant with more than 30 years management experience in the cleaning industry. He is a LEED Accredited Professional and a Cleaning Industry Management Standard (CIMS) ISSA Certification Expert (I.C.E.). Seal and his team offer support across the country with sales and operation analysis, new market penetration, and sales training. He can be reached at skip@seal-360.com.
Disclaimer: Please note that Facebook comments are posted through Facebook and cannot be approved, edited or declined by CleanLink.com. The opinions expressed in Facebook comments do not necessarily reflect those of CleanLink.com or its staff. To find out more about Facebook commenting please read the Conversation Guidelines.