BSCAI Member News
Commercial Cleaning For Large-Scale Events
---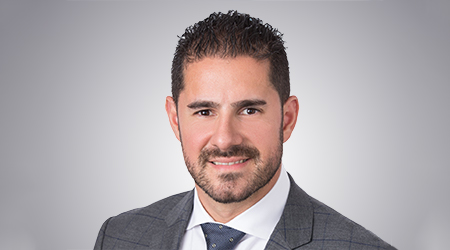 It's been only a year since Michael Marrazzo and his partners, Rocco Bove and Eric Malament, founded Summit Facility Solutions, but the New York-based company has already emerged as a major player in providing cleanup services to some of the highest-profile events around.
Marrazzo became the recipient of the BSCAI 2019 Emerging Leader Award for his work with Summit during BSCAI's 2019 Contracting Success Conference.
Several factors have made Summit stand out from the competition. For one, the firm bills itself a comprehensive facilities provider, offering a suite of services in one place. Its core business is commercial cleaning services. However, Marrazzo and his staff offer all ancillary services that complement the daily function of a facility from window cleaning and carpet care to pest management and even office wellness. It also offers a custom janitorial program, as the needs of each facility are different.
Summit also boasts a comprehensive on-boarding program that is carefully reviewed with each client. This program covers everything from backup keys to trash scheduling to where the sensitive areas are in a given building. In addition, Summit has adopted a partnered approach to facilities management, requiring the efforts of both parties to ensure expectations are managed, service delivery is properly monitored and the overall goals are being met.
Marrazzo's roots stem back to Wall Street where he spent the first decade of his post-undergraduate career in institutional banking. As such, he brings a distinct financial mindset to the cleaning industry — one that has served him and his team well as the assignments have gotten bigger.
BSCAI: Your company has been tasked with cleanup of some fairly big events. Among them is the 2019 Macy's Fireworks Spectacular and the Rockefeller Center Tree Lighting. What do you foresee as some of the unique challenges with such jobs?
Marrazzo: With any event cleanup that is heavily attended, we know the aftermath will be heavily littered. This will require a small army of cleaning technicians so we can turn the streets back over to the City of New York in a very small window of time. The biggest challenge we face is the seamless execution of the service delivery in a narrowed timeframe. We need to ensure logistics, communication, access and manpower are all well-thought out and operate synergistically the night of the event cleanup. To date, we have performed the Macy's 4th of July Fireworks spectacular, which was well strategized and executed from our team. Summit was contracted to perform the Rockefeller Center Tree Lighting cleanup in early December, and planning was already underway for this next event by then.
BSCAI: What is the biggest key to coordinating the logistics of such an assignment?
Marrazzo: That's an easy answer. Pre-planning! Event cleanup of such size requires hours of pre-planning, especially with the number of bodies it takes to operate a seamless operation of this magnitude. We set up multiple walkthroughs and had multiple meetings with NBC to understand the scope and plan out a master logistics program for the July 4th cleanup. This entailed setting up a command post for the day of the event, mapping out the area, assigning specific duties to each technician, designating parking for our vehicles within the event zone, assigning and distributing staff "All Access" badges, distributing radios for communication and coordinating and setting up a staging area for equipment and supplies.
BSCAI: You must have some pretty cool stories to tell at cocktail parties!
Marrazzo: Most people are intrigued with the July 4th cleanup. They always want to know details of how we ran a project that big.
BSCAI: What is your favorite part of the job?
Marrazzo: For me, it's the satisfaction of the client and the positive feedback we receive for the hard work that we invest into each client space that we service. Being able to create a clean and healthy work environment by using sustainable products is rewarding for all parties, including the environment.
BSCAI: What do you find most challenging? Even hard?
Marrazzo: The continuance of our aggressive organic growth and geographic expansion, while ensuring the service delivery is always executed seamlessly. Our management team in New York expanded by two more operations executives this past week and we are continuing our growth in Boston, Philadelphia and Florida.
BSCAI: Was there a piece of advice that was given to you earlier in your career that's really stuck with you?
Marrazzo: Yes. "Choose a career path that you are passionate about and you will never work a day in your life." I originally started my career in investment banking. After 11 years of work, I realized that this wasn't what I wanted to do with my life. I knew my calling to entrepreneurship was very much alive in me and, in 2012, I conceived two startups which I later sold before starting my career in facilities management. In 2018, I started Summit Facility Solutions, which has been a tremendous success to date. The passion that drives us forward every day is just amazing. It doesn't feel like work at all!
BSCAI: What advice would you have to those new to or just starting out in our business?
Marrazzo: Be dedicated, work hard and constantly be learning. Surround yourself with people smarter than you. Observe their habits, their behaviors and their failures. There is something to be learned from every situation. Look ahead at people who are five years ahead of where you are. If that's where you want to be, ask yourself, "Am I on the right path to get there?" If so, great! If not, change your path and align yourself to where you want to be and what you want to achieve.
BSCAI: You won Contracting Profits' first-ever Emerging Leader Award, yes? Congratulations! How did that make you feel, and what did it mean to you personally?
Marrazzo: Yes, it's a great honor to receive this brand-new award. For someone who is self-made, it's very humbling to be recognized by great organizations like BSCAI and Contracting Profits and I will carry this honor with pride and respect for my fellow BSCs.
BSCAI: Finally, how has your BSCAI membership benefited you personally and your company, in general?
Marrazzo: Since we have joined BSCAI, we have learned a great deal about what you are doing for the building service contractor industry. I think it's a great resource for anyone in our field. We already leveraged off the [National Service Alliance], which we learned about through BSCAI. They already have presented us with tremendous cost savings on our jan/san cost.
Disclaimer: Please note that Facebook comments are posted through Facebook and cannot be approved, edited or declined by CleanLink.com. The opinions expressed in Facebook comments do not necessarily reflect those of CleanLink.com or its staff. To find out more about Facebook commenting please read the Conversation Guidelines.