A Less Toxic Approach To Infection Control
Cleaning's Role In Public Health
---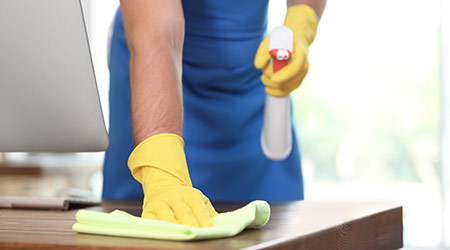 Running a contract cleaning company is not easy. Any job that deals with clients can be challenging, especially when the idea of what clean means is different for many customers. Clean could be what windows and glass look like, if there is dust or scuffs on the floor, or whether a restroom has dirty grout or odors. Having set processes, procedures, great training and retraining, and a public health approach to cleaning is important.
A public health approach means looking into less toxic cleaners that do not leave residues or have a lot of synthetic fragrances or dyes in them, ergonomic equipment for workers, decreasing cross-contamination, remembering indoor air quality and heading off the spread of infectious outbreaks and their symptoms every day of the year.
The industry has taught "green" cleaning concepts for years. Third-party certifications such as Green Seal and EPA Safer Choice have helped the industry rid many chemicals of carcinogens, neurological and reproductive toxins and more, as well as make sure the products work.
Now the industry struggles with issues of skin, eye and respiratory irritations, as well as headaches, dizziness and cognitive issues due to chemical exposure and poor indoor air quality because of ingredients in fragrances, dyes and sanitizers and disinfectants.
Beyond Cleaning: Public Health
Infectious outbreaks happen to everyone and occur everywhere. Germs can live sometimes for weeks or months on soft and hard surfaces and even in the air. This means that anything someone touches can potentially be hazardous to public health if it is not cleaned and sanitized or disinfected correctly.
During the 2017-2018 flu season, more than 80,000 people in the United States died from the flu and flu-related illnesses. Humans are also under siege by antibiotic resistant and stronger germs and pathogens every year as they mutate and become stronger. Knowing these facts makes facility management that much harder.
Cleaning for infection control means cleaning and removing soils and germs or possible pathogens. Then it's killing what is left. Infection control even includes hazards, toxicity, air quality, time and efficacy, cost and return on investment.
Waiting until it is the middle of November or for the first wave of flu to occur is too late to deal with infectious outbreaks and the mitigation of the symptoms and spread throughout the facility. The best way to deal with outbreaks easily, less toxically and effectively is to have a plan, a system and communication. No one wants to be liable for that facility on the news that is shut down due to infectious outbreaks.
next page of this article:
Cleaning And Disinfecting Must Be Done In Two Steps
---