A Floor Care Machine That Handles The Challenges Of Retail Facilities
Case Study: Retail Facilities Demand High Floor Care Standards
---
BY CP Editorial Staff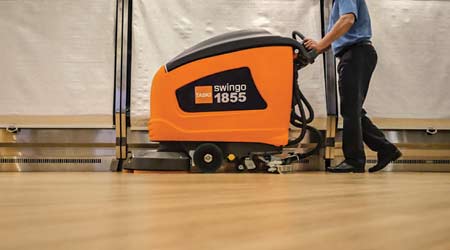 Contributed by Sealed Air Diversey Care

Spot Free, a family-owned and operated building service contractor based in Franklin, Wisconsin, has been providing commercial cleaning services since 1994. It services about 300 locations, and many are retailers that face high foot traffic each day, and need to maintain high standards of cleanliness to keep customers happy and safe.

"Although about 80 percent of our cleaning is done at night after customers are gone, retail environments can present more challenging store layouts," says Matt Neumann, owner, Spot Free. "Depending on a retailer's budget and the demands of the site, we may clean once a week or every day. Regardless of cleaning frequency, we need a reliable, easy-to-maintain floor care machine."

Spot Free has been a customer of Sealed Air Diversey Care for more than five years, and participated in a unique pilot program involving a new machine.

Spot Free needed a durable solution designed to meet the specific challenges of maintaining a retailer's floors. The BSC recently trialed a prototype TASKI swingo XD 1855 floor care machine at a busy regional grocery store chain. The machine has the capability to clean up to 41,000 square feet per hour. With a runtime of up to four hours, the machine is well-suited for cleaning larger retail spaces.

The TASKI swingo XD 1855 also has a unique W-shaped squeegee to ensure excellent water pick up. Because of this, Spot Free doesn't have to assign an employee to follow the machine with a mop to ensure all liquids are removed. The machine's cleaning pads also reach baseboards, meaning these areas don't have to be separately mopped. This process used to take one to two hours, so Spot Free is now saving a lot of time and the costs associated with this extra labor.

This particular machine was equipped with the optional IntelliTrail fleet management system. IntelliTrail allows BSCs and facility managers to remotely monitor floor care machines with ease. Part of Diversey Care's Internet of Clean platform, IntelliTrail combines smart technology, GPS tracking and web applications to provide essential data such as machine location, run times and critical service information.

"With IntelliTrail, we have insight into machine performance at all times, even when we're off-site," says Neumann. "The technology is incredibly valuable for our business because we can identify which machines may need maintenance sooner and if our operators are involved in minor collisions."

The pilot program was so successful that Spot Free has since purchased the TASKI swingo XD 1855 to use seven days a week at the retail site.

"We are thrilled to have this machine because it requires little maintenance, it gives us access to valuable data and it leaves floors clean and safe," says Neumann.
---