Replacing Mops With Machines Reduces Contamination
Case Study: Government Facilities Make Switch To Automated Equipment
---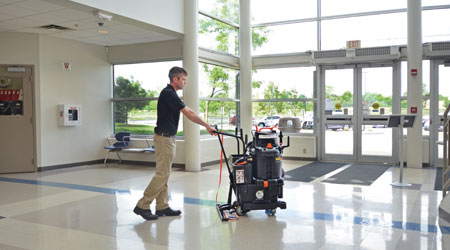 Contributed By Kaivac Inc.

When Mark Jackson, business services liaison for the West Virginia Association of Rehabilitation Facilities (WVARF), was hired to supervise the cleaning needs of 4.1 million square feet of space, he wanted to avoid the use of mops. But Jackson still needed a cleaning system that was efficient, easy to use, user-friendly and capable of meeting high cleaning standards of appearance and health.

Jackson replaced the mops his cleaning staff was using with Kaivac's No-Touch Cleaning and OmniFlex AutoVac floor cleaning systems.

"I know mopping is a big problem," says Jackson. "With Kaivac technologies, we are cleaning more hygienically … and when we clean more hygienically, it [helps us] save money, and it helps protect our workers. We can reduce contamination, absenteeism and hospital care."

Using these machines, Jackson's staff applies a precisely measured amount of cleaning solution to floors, walls, counters, restroom fixtures and other surfaces. After allowing for dwell time, the same areas are pressure-rinsed to loosen soils, which are then suctioned up and deposited in a separate recovery tank.

The other Kaivac system used by Jackson's crew is the AutoVac. Similar to a walk-behind scrubber, the AutoVac applies fresh cleaning solution to the floor, and a pad behind the machine agitates the solution, loosening soils which are then vacuumed up. Not only is the machine less expensive than a traditional automatic scrubber, but tests indicate it is as fast and as effective — if not better — as a traditional automatic scrubber.
These machines are exactly what Jackson was looking for.

"Government agencies are pushing for faster and faster cleaning rates with no drop in performance," says Jackson. "In order for us [to do this], we need equipment that is fast, effective, and easy for our employees to learn and use."

WVARF holds all the janitorial contracts for state-owned facilities with the exception of higher education. These West Virginia government agencies are cleaned and maintained by people with disabilities.

The mission of WVARF is "to give every individual with a disability the opportunity for gainful employment." Jackson says another benefit of the Kaivac machines is making this mission statement a reality.

"The Kaivac systems are helping us to provide work and offer work opportunities to individuals with disabilities," he says.
Disclaimer: Please note that Facebook comments are posted through Facebook and cannot be approved, edited or declined by CleanLink.com. The opinions expressed in Facebook comments do not necessarily reflect those of CleanLink.com or its staff. To find out more about Facebook commenting please read the Conversation Guidelines.