Boost Carpet Cleanliness
Carpet Equipment That Helps Maintain Cleanliness
---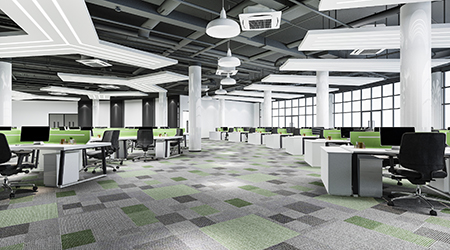 Most building service contractors are currently contending with two major shortages that could make business-as-usual a thing of the past. The first is the well-documented shortage of laborers. The second is a countrywide shortage of water that the U.S. Forest Service has predicted will worsen over the 21st century. Although these are present roadblocks, BSCs can't let them prevent the work from getting done, no matter how challenging the situation may be.
Subsequently, BSCs need some innovative ways to optimize the team's performance and improve green practices. Fortunately, a few exceptional pieces of equipment and products are available to help contractors achieve their goals and impress (and convert) clients — all without forcing businesses to abandon eco-friendly principles. These include water recycling extractors and counter-rotating brush machines.
Water Recycling Extractors
As far as tools go, continuous-flow water recycling extractors ensure both thorough cleaning processes and incredibly high levels of efficiency. The premise upon which this machinery works is fairly straightforward. Essentially, dirty water gets reclaimed and turned into clean water.
On a practical level, water recycling extractors are perfect for professionally cleaning room after room of carpets. As water from the dirty carpet is pulled into the extractor, the suspended soil moves through a series of filters. Each filter sifts out smaller and smaller pieces of debris, ending at the nanoparticle level. The filtered water can then be reused without re-soiling the carpet — and the newly cleaned carpet is free from soap residue, surfactants and accompanying odors.
This type of extractor doesn't just save water, it's an enormous time-saver as well. Imagine trying to clean carpets on a huge campus. Frontline workers couldn't afford to spend a half-hour working on carpets, only to cart water back and forth between remote faucets. With a water recycling extractor, they could spend less time cleaning large swaths of carpets or upholstery.
Of course, choosing which extractor to purchase takes some time and patience. Plan on looking deep into the manufacturer's history and parts. Find out more about each model's reputation for quality and durability, as well as the model's filter longevity. It's important to also know about the company's repair service policy, as maintenance plays a big factor in getting long-term value from this type of equipment.
Ideally, the extractor that is chosen should handle and transport effortlessly, while also housing enough water capacity in a 10- to 15-gallon tank to give carpets and upholstered items a deep clean before the water needs to be replaced. Remember, the more intuitive the equipment, the lower the barrier to teaching technicians how to use and maintain it.
next page of this article:
Choosing The Right Carpet Care Equipment