BSCAI Executive Management Conference 2021 Sets New Attendance Record
Business Tips Shared At Live BSCAI Event
---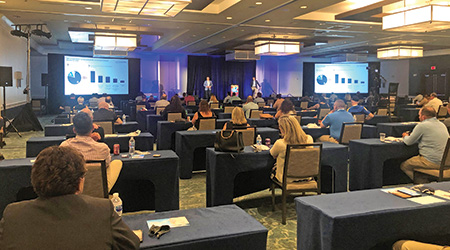 Contributed by BSCAI
Building Service Contractors Association International (BSCAI) successfully marked the organization's return to in-person events by welcoming a new event-record number of building service contractors and industry experts together in Fort Lauderdale, Florida, from April 29 to May 1. In-person registration sold out in advance of the gathering with a turnout that established a new benchmark for this annual event. Understanding that not all those interested were able to attend this event in-person, BSCAI also created the first truly hybrid experience with a remote participation option. This enabled livestream delivery of all education sessions through an online attendee portal.
Tailored specifically to the needs of executives from BSC companies, the event featured four mainstage presentations dedicated to positioning both individuals and businesses for sustained growth. The program lineup included:
Attendees also benefited from the event Exhibition that featured the latest cleaning and disinfecting products, equipment and industry innovations from leading vendors. The event marked the first opportunity for contractors to see equipment and solutions in-person since the fall of 2019.
BSCAI worked extensively with the Westin Fort Lauderdale Beach Resort to ensure a safe environment for attendees. Precautions included daily temperature and health checks, mask-wearing, socially distant seating arrangements, two attendee groups with staggered meal times and education sessions, repeat presentations from speakers, multiple general session rooms, and audio-visual for overflow areas that not only complied with local government and venue regulations, but provided attendees options for engaging with the event in ways that aligned with their personal comfort level.
"Our staff, program planners and venue partners truly went above and beyond to make sure we could execute this meeting safely, and accommodate attendee comfort levels wherever they stood on that spectrum," said Christopher Mundschenk, CAE, Executive Vice President of BSCAI. "Our attendees deserve the highest praise for their cooperation and compliance in maintaining the highest health and safety standards possible."
Attendee feedback was universally positive, covering all facets of the event from program content, networking and health and safety precautions. Sample comments from attendees include:
"It was great to get back to collaborating with other BSCs. This is something I've missed over the last year and a half and that's what this organization is all about. The speakers and venue were excellent. I'm looking forward to Vegas in the fall."
"[This event was] one of the best ways to learn, benchmark and network with the leading janitorial contractors in the country, which has helped contribute to our teams and company's ongoing success in so many ways!"
"This was another excellent conference by BSCAI. The networking and speakers were outstanding as usual — especially given the restrictions surrounding COVID-19 — and I look forward to future BSCAI conferences. See you in Vegas!"
With such a strong turnout at the Executive Management Conference, BSCAI is excited about the prospects for its annual Contracting Success Conference, which will take place November 17-19 in Las Vegas, co-located with ISSA North America 2021. Watch the BSCAI website at www.BSCAI.org for program details and registration coming this summer.
---