Show-Me Success
Building a Cleaning Company in the Show-Me State
---
BY Jackson Silvanik, Managing Editor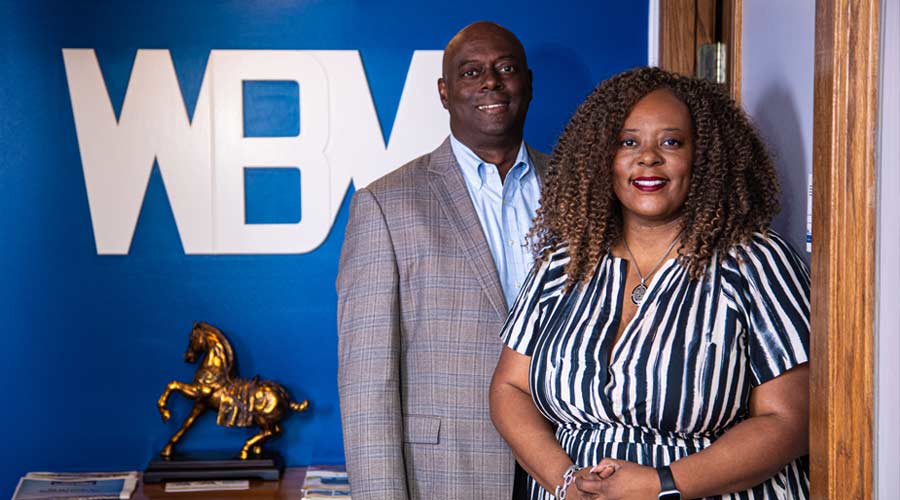 In the heart of the Show-Me State, a remarkable tale of leadership and family success is being written; and unexpectedly (even to him), Terry Woodley and his family are gripping the pen.
Woodley Building Maintenance, a commercial cleaning company headquartered in Kansas City, Missouri, and servicing several states in the Midwest, has not only thrived in the competitive commercial cleaning market, but has also become a beacon of family values and leadership. What lessons there are to be learned from the Woodley's can be done by appreciating their drive to succeed, the lessons on leadership learned along the way, and the various factors at play when it comes to running a business the family way.
A Legacy Begins
The actual story of Woodley Building Maintenance (WBM) spans generations. Founded by Jimmy Woodley in 1965, the company initially started as a small janitorial service serving local businesses and whatever clients they could scrape up.
As Tiffany Woodley describes it, the first contract was for cleaning a small office complex in Lee's Summit, when the previous supplier went on strike. Tiffany Woodley, the chief financial officer at WBM, who joined the family business at age 27, recalled that "[Dad] didn't have the financing to do the work, so he got a loan from his old boss and the business grew from there."
Jimmy's commitment to providing top-notch cleaning services from the get-go set a strong foundation for the family business, and his kids took it all in. Over the years, the family's dedication and hard work would gradually enable them to expand the company's reach and reputation.
"I wasn't really even supposed to be here," remarks Terry Woodley, the current COO, following in the family footsteps. "I was working in finance and got laid off, so I needed a job. My dad brought me back on board and I started looking for ways to make an impact. I knew how the finance side worked, so I started poking around to see where improvements could be made."
To his own surprise, Terry has become a true leader, and his passion for the business is evident in the way he approaches running things. He is a hands-on president who is always looking for ways to improve the company and its services.
Between Terry, his sister and CFO Tiffany, and their mother Robery, the Woodley's have pooled their unique experiences and abilities to achieve consistent and laudable success.
For example, Terry's leadership and business acumen has been instrumental in WBM's growth. He worked diligently to instill a culture of excellence and customer service that is evident in everything the company does. He has remained consistent as the company has grown across state lines and into new territories.
Even with expansion, WBM continues to be praised for its high-quality services, its reliable team members, and its commitment to its clients. Maintaining that reputation as they grew was critical to Terry's larger plan.
Meanwhile, Tiffany Woodley has also put her stamp on the family business and played a key role in the success of WBM. She has served as the company's CFO for many years, and she has been instrumental in managing the company's finances and operations. She is also a strong advocate for the company's employees, and she is always looking for ways to improve their working lives.
"When Tiffany and I joined the company, it was already a good size to support our parents," remarked Terry Woodley in an interview. "Since then, we've created a great culture, grow and also formed a joint venture with another building maintenance company that was the brainchild of my father and his good friend, Skip Marsden (founder of Marsden Services)."
The Woodley family is committed to carrying on the legacy of WBM. They are focused on providing their clients with the highest quality services possible, and they are committed to creating a positive work environment for their employees.
Leadership Lessons
Terry Woodley firmly believes in leading by example. His hands-on approach to management is intended to inspire his team to take pride in their work, and to understand that no task is beneath them. Terry's willingness to get into the thick of it, roll up his sleeves and join his employees in their tasks creates a sense of camaraderie and mutual respect within the company.
He attributes their success to a few key pieces of the formula:
Adaptability: In the fast-paced world of commercial cleaning, adaptability is crucial. Terry Woodley emphasizes the importance of staying up to date with the latest cleaning technologies and methods. By constantly evolving and embracing innovation, Woodley Building Maintenance has remained competitive and relevant in the industry.
Customer-Centric Approach: Terry's unwavering commitment to customer satisfaction has been instrumental in the company's success. He understands that a satisfied customer is more likely to become a long-term partner. Terry and his team go the extra mile to address client needs promptly and effectively, building lasting relationships along the way. The company may have started small, but it now offers an incredible array of services.
Service: When it comes to janitorial services, WBM covers a lot of ground, and has never shied away from growth opportunities. They cover everything from daily cleaning to floor care, carpet cleaning and window cleaning, as well as a variety of building services, such as HVAC maintenance, electrical maintenance, plumbing maintenance, and more. WBM will even clean the parking lot, remove graffiti and conduct power washing. If clients have asked for it, WBM has worked to find a way to accomplish it. In most cases, they'll add it to the growing menu of service offerings.
According to Terry, you don't need to be an expert to develop new areas of income, but you need to know where to begin. For businesses looking to expand their offerings, it's crucial to consider the bottom line, as well as the potential for future growth. Also, consider the realistic needs of the client base, which is especially useful in a post-pandemic climate where consistency across clients is likely to be much less likely.
Fortunately for WBM, Terry and Tiffany — with their critical financial experience — were able to make partnerships with banks that opened new doors for business possibilities The brother/sister duo always keeps their eyes and ears open to sense any new windows of opportunity – a long journey from their single-office cleaning contract origin. For example, their services now include:
Office cleaning: WBM cleans offices of all sizes, from small businesses to corporate headquarters. They offer a variety of cleaning services, such as dusting, vacuuming, mopping and trash removal.
Medical facility cleaning: WBM cleans medical facilities of all types, including hospitals, clinics and doctor's offices.
Industrial cleaning: WBM cleans industrial facilities, such as factories, warehouses and manufacturing plants. Over time, they've developed and acquired the experience and equipment to clean even the most challenging industrial environments.
Exterior cleaning: WBM offers a variety of exterior cleaning services, such as window cleaning, pressure washing and parking lot cleaning.
All of these jobs came from identifying potential new business, adapting to the needs of the moment, and standardizing a process to make it part of the growing operations WBM maintains.
Family Values in Business: One of the most profound lessons from Terry, Tiffany and their mother, Robery Woodley, is the significance of possessing strong family values in business. They treat employees and clients as an extension of their own family, fostering a sense of trust and loyalty. This approach not only helps in retaining talent, but also contributes to the company's outstanding reputation.
One of the Woodley family's mantras is to always be passionate about the business. Terry's passion for WBM is evident in everything he does, and detectable in his voice when he talks about the journey they've been on.
"When you are passionate about your business, it shows, and it inspires your employees to be passionate as well," adds Terry.
Creating a positive work environment is also vital to success. The Woodley's provide the employees with the resources they need to succeed. Doing so makes the team feel valued and supported, adding to their productivity and engagement.
Treating people well is a mantra at WBM, which is why the entire team focuses so much on customer service. In fact, WBM is known for its commitment in this area. and the team at WBM is always willing to go the extra mile to make sure the clients are satisfied because when the customers come first, long-term success is likely to follow.
It seems obvious just by examining the makeup of WBM, but their commitment to being family-oriented beyond themselves is evident in how the company functions. The common saying claims that it takes a village to attain success, and the Woodley family is committed to working together to make WBM an industry mainstay. They support each other and they work together to make decisions that are in the best interests of the company. This family-oriented business has created a strong foundation for success.
All in the Family
For those considering venturing into a family-run business, the Woodley's experience offers valuable insights:
Clear Roles and Communication: Define roles and responsibilities clearly within the family. Effective communication is key to avoiding misunderstandings and conflicts.
Balancing Personal and Professional: Striking a balance between family dynamics and business interests can be challenging. Set boundaries and cultivate a work culture that respects personal space.
Long-Term Vision: Think beyond the present. Create a long-term vision for the family business that aligns with the aspirations of each member.
Embrace Change: Embrace change and innovation while respecting the traditions and values that make the family business unique.
Continuous Learning: Invest in education and training to keep each family member updated with industry trends and best practices.
Terry and Tiffany Woodley exemplify the necessity of strong leadership, dedication and family values in business. Their journey from a modest janitorial service to a thriving commercial cleaning company in Missouri and throughout the Midwest serves as an inspiration. The Woodleys' approach to running a family business offers a blueprint for not only surviving but thriving in today's competitive business world. Their story is a testament to the enduring power of family values and the pursuit of excellence.
Tips and Tricks for Running a Family Business
Communicate openly and honestly. Communication is essential in any business, but it is especially important in a family business. Make sure to communicate openly and honestly with all family members about the business, including the goals, expectations and challenges.
Set clear roles and responsibilities. It is important to set clear roles and responsibilities for each family member involved in the business. This will help to avoid confusion and conflict.
Treat everyone fairly. It is important to treat all family members fairly, regardless of their role in the business. This means being fair in terms of compensation, opportunities and discipline.
Maintain work/life balance. It can be difficult to maintain work/life balance in a family business, but it is important to try. Make sure to set aside time for personal schedules and relationships.
Have a plan for succession. It is important to have a plan for succession in place, especially if there is a plan to pass the business on to other family members. This will help to ensure a smooth transition.
Create a family business charter. A family business charter is a document that outlines the values, goals and expectations of the family business. It can be a helpful tool for communicating with family members and ensuring that everyone is on the same page.
Hold regular family business meetings. Family business meetings are a great way to communicate with family members about the business, make decisions and resolve conflicts.
Seek outside advice. It can be helpful to seek advice from outside professionals, such as accountants, lawyers and business consultants. They can provide guidance on a variety of issues, including financial management, legal matters and business strategy.
Jackson Silvanik is the Managing Editor for Contracting Profits, and lives and works in Lexington, Kentucky. He also edits and writes for Facility Cleaning Decisions, Sanitary Maintenance and CleanLink.com.