'Pioneering' Green
Building A LEED-compliant, Green Seal-certified Program
---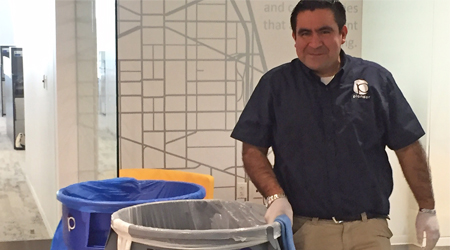 This is part one of a three-part article profiling Pioneer Building Services' sustainability program.

Businesses and governments are more conscious of environmental concerns than ever. In fact, a new Washington, D.C., law now requires adherence to sustainability program standards in order to qualify for bidding on public sector work.

Pioneer Building Services, Potomac, Maryland, is perfectly positioned to handle these needs. The building service contractor earned Green Seal's GS-42 certification in 2010, becoming just the fourth company in the Washington, D.C., market to be certified and just the 18th company nationwide.

Earning the GS-42 certification was at times a complicated process, full of meticulous record keeping and extensive staff training. But, in the end, Pioneer feels the changes have helped the company, as well as its customers.

Other BSCs can get ahead of the sustainability curve in their markets by doing the same. But first, they should know what they're getting into.
Setting Sights On Green
According to Pioneer Vice President Chase Carlson, the BSC chose Green Seal's program because of its robust standards and national accreditation — attributes that complemented the company's already existing sustainable cleaning practices.

"Green Seal provided the platform that we wanted to uphold and provide for our customers — that being a healthy cleaning service that took into consideration the environment and the impact we have on the occupants in our buildings," says Carlson.

To prepare for GS-42 certification, Pioneer sent 25 of its key operational employees on a three-day crash course in the summer of 2009, a training session that Carlson describes as "an indoctrination of the Green Seal program." Attendees then met with their respective team members and adopted a "train the trainer" model to educate the frontline staff.

The BSC also partnered with a consulting firm for the writing of standard operating procedures and site-specific plans.

"We really wanted to make a splash, and we did that by partnering with Building Wellness Institute," says Carlson. "They helped us ensure that we met every piece of the certification outlined by Green Seal."

Pioneer's green cleaning initiatives service approximately 12 million square feet across 100-plus accounts. Although the company focuses primarily on commercial office cleaning for real estate firms in the public and private sector, it also services medical offices, private schools and residential properties.

To meet the requirements of the Green Seal program, Pioneer phased in existing accounts over a six- to 12-month period. For its on-site audit, Pioneer chose Milestone, a LEED Silver EBOM–certified Class A business park in Germantown, Maryland, managed by CB Richard Ellis.

"[CB Richard Ellis] really complemented what we were doing as a management company to provide a sustainable building environment," says Carlson. "They facilitated meetings and were very supportive of any adjustments we needed to make with the equipment, materials and paper. As a result we were able to set up our audit site fairly quickly and pass with flying colors."

Some of the required changes included implementing trash bag liners that contain a minimum of 10 percent post-consumer recycled content and paper products that contain 80 percent recycled content.

The program also requires the use of environmentally preferable chemicals, such as those certified by Green Seal or EcoLogo. Fortunately, Pioneer's distributor was already in line with Green Seal's expectations, so the company did not need to make numerous changes to its cleaning chemicals.

"By committing to the program, we were able to remove some ancillary products that were abrasive or acid-based," says Operations Manager Dennis Orellana. "We knew that bleach was not a product we wanted to use on a routine basis, so we were making good business decisions based on the advice of our partners. Any time you can streamline the products you're using and the processes in which you use them, it provides clarity for our frontline staff — and obviously less chemical exposure."

Today, all of Pioneer's cleaning products are Green Seal certified and dispensed via chemical proportioning systems when feasible.

"With the use of dilution control systems in our buildings, we no longer have to ship multiple gallons of chemicals to our site," says Orellana. "So not only are we using a lot less chemicals, but we're supporting the reduction of plastics and packaging."
next page of this article:
How To Earn GS-42 Certification
Disclaimer: Please note that Facebook comments are posted through Facebook and cannot be approved, edited or declined by CleanLink.com. The opinions expressed in Facebook comments do not necessarily reflect those of CleanLink.com or its staff. To find out more about Facebook commenting please read the Conversation Guidelines.
---