Five Keys To Growing A Business
Book Club: How To Scale Up Your Business
---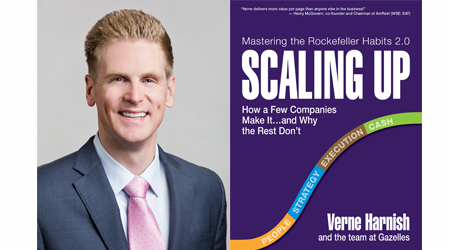 "Scaling Up: How a Few Companies Make It...and Why the Rest Don't," by Verne Harnish, is a 360-degree tutorial on how to grow a business by focusing on five key areas:

1. People: In the book, Harnish shares resources on how to evaluate your people, ensure they are in the positions they need to be, and decide if they need to be on your team at all. He then goes into detail on how to train B and C people into A players.

2. Strategy: The book forces you to ask three critical questions about your strategy. The first is a multi-part question asking what you need to start doing, stop doing and keep doing within your organization. The next question is whether you understand your weaknesses and trends. And finally, what is your Big Hairy Audacious Goal (BHAG)?

3. Execution: This part focuses on the who, what and when. The author discusses how to clearly define who is not just responsible, but also accountable for your strategic priorities. For example, what do you need to do in the next 90 days to get you started on the road to scaling up your business?

4. Cash: The principle of Cash Acceleration Strategies is discussed, including how it leads to shortening your cash conversion cycle. It focuses on ways to improve your sales cycle, and how to improve your production cycle to ensure the inventory you buy gets delivered and paid for quickly.

5. One Thing: Harnish continues to bring up the question of "what is the one thing you need to do?" This is meant to not only make the reader think of what should be done first, but also to make it very clear that you can only successfully focus on one thing at a time. So choose just one, then "hyperfocus" on it before moving on to the next thing.

Harnish reminds his audience that if our goals, vision and everything in between is written down, they are more likely to happen. Defining these items will also give you a clearly written purpose and alignment within your organization. Harnish likens it to playing Sudoku. Write in what you think is right. If it wasn't right, go back and change it until you get it right.

Chase Carlson
President
Pioneer Building Services
Potomac, Maryland

More than 10 years ago, Verne Harnish wrote "Mastering The Rockefeller Habits," which compiled the best business practices from the world's top firms. "Scaling Up," published by Gazelles, Inc., updates that business best-seller with today's tools and techniques for creating and running an industry-leading company.

For three decades Harnish has coached CEOs and helped them "scale up" their businesses. He hones these approaches for this book and writes them so all levels of employees can understand and contribute to a company's new growth strategy.
Disclaimer: Please note that Facebook comments are posted through Facebook and cannot be approved, edited or declined by CleanLink.com. The opinions expressed in Facebook comments do not necessarily reflect those of CleanLink.com or its staff. To find out more about Facebook commenting please read the Conversation Guidelines.
---