BSCAI Member News
BSCAI Executive Management Conference 2023 Continues Its Strong Presence for BSC Leadership
---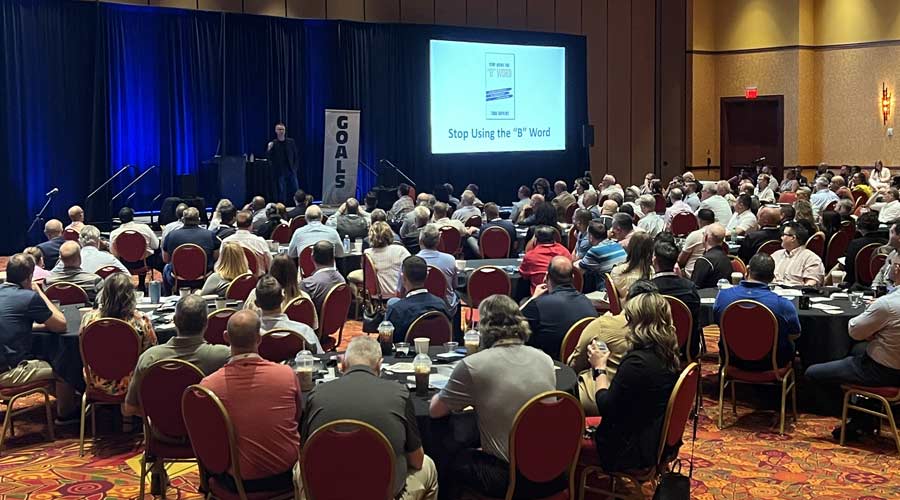 Contributed by BSCAI
Building Service Contractors Association International (BSCAI) successfully executed its third in-person Executive Management Conference (EMC) event since the start of the pandemic. The event brought together more than 400 industry professionals in Glendale, Arizona, from April 27-29. It marked significant engagement from contractor attendees and a strong showing of vendor support in the year's first opportunity to see equipment, supplies, solutions and more.
Tailored specifically to the needs of executives from building service contractor companies, the event featured four mainstage presentations focused on leadership, team cohesion and employee engagement.
The program lineup included sessions led by Todd Hopkins, CBSE, founder and Chief Visionary Officer of Office Pride Commercial Cleaning Services; Lieutenant Colonel Jason O. Harris, former U.S. Air Force and thought leader; Justin Forsett, former NFL (National Football League) running back, CEO and founder of Hustle Clean; and Alyson Van Hooser, author and speaker.
"This year's EMC experienced attendance on par with last year's record-breaking attendance numbers," stated BSCAI Executive Vice President and CEO, Chris Mundschenk. "Those numbers, paired with the event's energetic atmosphere, made it clear that our industry's leaders are eager to reconnect, learn and develop their teams.
Attendee feedback was universally positive, covering all facets of the event from program content, networking and health and safety precautions:
"This was the first-ever EMC conference that I have attended in my 27 years in the industry. I found great value with the speakers and networking with like-minded executives, as well as operational gurus. I will definitely be back to EMC and plan on a CEO seminar, too."
"The 2023 BSCAI Executive Management Conference was a great opportunity for me and my team to get away and learn a lot. I am so glad we made the investment of time and money. I am certain it will pay off 10 times over."
"The conference greatly exceeded my expectations. I always enjoy the outings and networking, but the speakers this year were incredible. This was exactly what I needed to motivate me and my team!"
With such a strong turnout and evident attendee growth at the Executive Management Conference, BSCAI is excited about the prospects for its 2023 Contracting Success Conference, which will take place November 14-16 at the Mandalay Bay Resort & Casino in Las Vegas, co-located with ISSA North America 2023. Watch the BSCAI website at bscai.org/Events/Contracting-Success for program details and registration coming this summer.