BSCAI Member News
BSCAI Announces New Affinity Partnership With Truvelop
---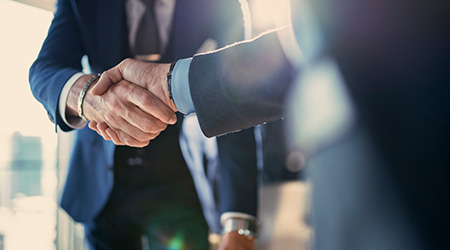 Contributed by BSCAI
BSCAI is proud to announce a new affinity partnership with Truvelop, a best-in-class software-as-a-service (SaaS) performance management and development solution that provides an efficient way for building service contractor (BSC) staff supervisors to manage employee performance and development while simultaneously improving manager and employee relationships.
"We're excited to collaborate with BSCAI as a new Affinity Partner," says Lisa First-Willis, CEO of Baltimore-based Truvelop. "We know our technology will deliver critical insights and value to building service contractors from day one after implementation. We're pleased to contribute to BSCAI's mission of helping its members continually improve operational efficiency and employee performance, ultimately leading to better bottom-line results for BSCAI's member companies."
Truvelop generates measurable return on investment (ROI) through seamless employee reviews, continuous employee development and real-time feedback. Truvelop's event-based performance analysis provides data-driven insights to staff managers based on a unique algorithm that monitors performance output and trends. This enables delivery of real-time performance indicators — both upward and downward — through Truvelop's interactive dashboard, thereby prompting the manager to take steps to commend or correct the employee's performance pattern.
Coupled with Truvelop's one-of-a-kind artificial intelligence-enabled coaching insights, managers quickly understand who on their team is excelling, who may need additional attention and coaching, and indicates potential barriers to the employee's success. Most important, Truvelop's unique technology lays out a roadmap on how to drive continuous performance improvement, thereby leading to better employee engagement, continuous development and improved retention.
"With Truvelop, our field supervisors will finally have a user-friendly tool that ensures that all employee evaluations will be standardized, on time and will include 'coaching insights' that will help our supervisors and managers better understand our workforce," says Greg Buchner, CBSE, President and CEO of CleanOffice in Herndon, Virginia. "In the cleaning industry, 'human capital' is our product and accounts for over 75 percent of our costs-of-goods-sold (COGS). With this in mind, we can't afford to minimize the value of investing in our workforce."
As part of Affinity Partner status, BSCAI members are eligible for a discount on their Truvelop subscription. See details on Truvelop at www.truvelop.com and the Truvelop Affinity Partner page on the BSCAI website.
"BSCAI is excited to announce this partnership with Truvelop as yet another value add to our membership portfolio," says Christopher Mundschenk, CAE, BSCAI Executive Director. "We understand that labor is the most important issue facing BSCs today. We believe this partnership with Truvelop will help our members to not only improve employee performance, but also retain and develop employees in order to differentiate their companies and contribute to bottom-line profitability."