Frontline Fix
Tackle Turnover By Attracting And Retaining The Right Workers
---
BY CP Editorial Staff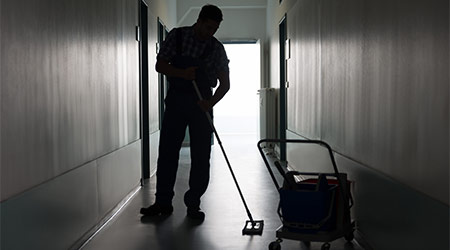 Retaining frontline janitors has never been easy for building service contractors. Some workers leave for higher pay, some for better hours, and others might leave because they no longer need the income. Whatever the case may be, turnover happens a lot for BSCs. According to research showcased at the 2019 BSCAI Contracting Success Conference, employees leave contract cleaning companies at a rate that is 3.6 times higher than the
national average.

Annual turnover rates vary for each company. The contract cleaning industry gets stereotyped to be a revolving door with annual turnover rates over 100 percent. Although that is true for some companies, this "Building Service Contractor Frontline Labor Report" outlines that only a small percentage of BSCs experience turnover this high.

Staffing and turnover have plagued the cleaning industry for decades.

There is no professional career path — no one goes to school to study to become a janitor. Then consider the work, which is physically demanding and often goes unnoticed and unappreciated. Add in the salary restrictions and it should come as no surprise that cleaning is among the lowest rated jobs and tasks by significant margins, according to Pew Research.

Bottom line, cleaning is an industry that struggles with attracting new hires. Even for those executives who are able to recruit, retention becomes an issue as turnover rates continue to climb.

This turnover is more than just a headache for BSCs, it packs a punch with budgets. According to a 2019 Gallup poll, the cost of replacing an individual employee can range from one-half to two times the employee's annual salary — and that's a conservative estimate.

In an effort to get to the bottom of some of the biggest labor issues in the industry, Contracting Profits and Building Service Contractors Association International partnered to survey over 200 building service contractors of various sizes and in multiple locations across the country.

This research, shared in the "Building Service Contractor Frontline Labor Report," outlines and analyzes current turnover rates, salary averages, retention strategies, and more for cleaning professionals servicing commercial offices, K-12 schools, colleges/universities, hospitals, outpatient clinics, religious buildings, government facilities and other facility types.

Building service contractors can use this data to compare themselves to their peers, implement recruitment and retention strategies that work, and stop wasting money on turnover.

For more information and access to the report, click here.
next page of this article:
There's More To This Research