Cleaning: CP
Cleaning: HS
Cleaning: Paper Products & Dispensers
Cleaning: Soap & Dispensers
---
Challenges To Cleaning A Restroom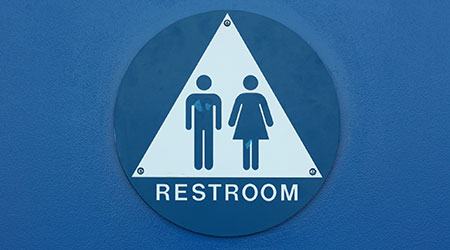 Cleaning a restroom sounds simple at first glance but actually can be difficult to fulfill for many reasons. Although a rest room has a very small square footage imprint on most buildings it can require a high labor expenditure due to the various tasks that need to be performed. Note the key aspects are usage, tasks to be performed and of course frequency of tasks to be performed.

In order to be hygienic, there are certain tasks that should be performed each visit (based on five days per week, one visit per day) such as disinfecting/sanitizing touch points, cleaning toilets/urinals/sinks/mirrors/counter tops/door handles and items such as partition walls. Along with these tasks, consumable supplies such as toilet tissue, paper towels, hand soap, seat covers, air fresheners and other items must be inspected and serviced as needed. The trash must be pulled, floor swept and damp mopped using the appropriate products and tools.

If the restroom is "policed" during the day it simply means that the custodian checks on the restroom and services it as needed. Most of the time, they verify that all consumable supplies are acceptable and they will usually wipe the counter, pick up debris/trash and even lightly damp mop if necessary. Heavy wet mopping is avoided during the day due to drying time and heightened traffic when the building is open for business. Periodic work such as pouring water down drains and washing walls need to be factored in as well.

A key aspect if upon entering the restroom does it "feel" clean as to odor, counters, mirrors, trash/debris and water spills? The more thorough cleaning at night makes it easier to police during the day.

Your comments and questions are important. I hope to hear from you soon. Until then, keep it clean…

Mickey Crowe has been involved in the industry for over 35 years. He is a trainer, speaker and consultant. You can reach Mickey at 678-314-2171 or CTCG50@comcast.net.
TIPS SELECTED FOR YOU
---