ProTeam Celebrates 30 Years Of Innovation At ISSA/INTERCLEAN 2017
---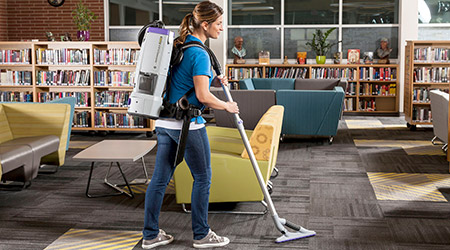 Contributed By ProTeam

Three decades ago, ProTeam introduced the first lightweight backpack vacuum to the commercial cleaning world. Wearing a vacuum was a novel approach, and many people were skeptical at first. They wondered if a backpack vacuum would be tiring to use, but it wasn't. It actually took less than half the energy and effort to clean the same area.

People wondered if it could clean effectively without a beater bar. It turned out to be 43 percent more efficient at removing soil than a commercial upright vacuum. But the biggest surprise was its speed, clocking in at two to three times faster than an upright vacuum and 52 percent faster than a dust mop. It set a new productivity standard for the cleaning industry.

This year, as ProTeam celebrates its 30th anniversary, the company debuted their most innovative cleaning combo to date — the GoFree Flex Pro cordless backpack vacuum with the ProBlade floor tool. Untethered from the nearest outlet and unburdened of cord management tasks, the GoFree Flex Pro cleans five times faster than an upright vacuum and 30 percent faster than a standard backpack vacuum. Its state-of-the-art Lithium ion battery creates approximately 75 minutes of continuous runtime. The design of the ProBlade floor tool distributes suction more evenly across the length of the tool for more efficient debris pickup.

Both the GoFree Flex Pro and the ProBlade were designed with the cleaning worker in mind. Thicker back and shoulder pads create a more comfortable fit, while an ergonomic vacuuming motion covers ground quickly. A lighted display allows cleaners to quickly check their battery status. Most importantly, the unit uses the latest in battery technology allowing for one of the lightest battery backpacks on the market to also carry the industry's longest battery runtime.