Register For The 2017 BSCAI CEO Seminar in Cancun
---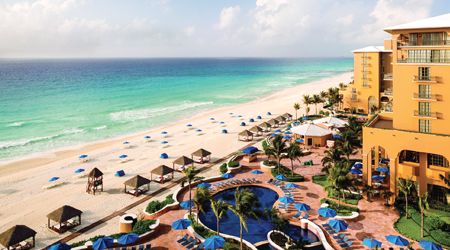 Each year, this intimate, three-day gathering provides leaders like you with success-driven education. Whether you lead a small, medium or large organization, you'll benefit from this opportunity to network and learn among a group of like-minded peers and return to your business both focused and re-energized!

"We can't wait!"— that's the phrase that CEOs and other C-suite executives exclaim when preparing for the 2017 BSCAI CEO Seminar in Cancún, Mexico.


Rejuvenate Yourself in Cancún
The Ritz-Carlton - Cancún Calle Retorno del Rey
#36, Zona Hotelera, 77500
Cancún, Q.R., Mexico

The sandy beaches, blue waters and breathtaking views at The Ritz-Carlton provide guests with the ultimate experience. Cancún is a tranquil retreat where you can relax along the peaceful shore of the Caribbean — ideal for dedicated and focused "think time" and personal rejuvenation.

The attendee experience will be exceptional, allowing you to recharge for the coming year. When reserving your room by calling the hotel at 1-877-240-2492, be sure to mention the 2017 BSCAI CEO Seminar. You may also reserve your hotel online at www.bscai.org/ceoseminar. Book your room by Dec. 21, 2016 at the discounted rate of $299/night plus applicable taxes and fees. After this date, reservations will be accepted by the hotel based on availability and at the hotel's prevailing rate.


2017 BSCAI CEO Seminar Schedule
Wednesday, January 25
1:00 p.m. – 5:30 p.m. Golf Outing
5:00 p.m. – 7:00 p.m. Open House Happy Hour

Thursday, January 26
8:00 a.m. – 9:00 a.m. Networking Breakfast
9:15 a.m. – 10:15 a.m. State of the Industry, Mark Herbick, Pursant, LLC
10:30 a.m. – 12:30 p.m. Economics Session, Dr. Alan Beaulieau, ITR Economics
4:00 p.m. – 5:00 p.m. Guacamole & Margarita Culinary Demonstration
6:00 p.m. – 7:30 p.m. Sponsor Hosted Reception

Friday, January 27
8:00 a.m. – 9:00 a.m. Sponsored Roundtable Breakfast
9:15 a.m. – Noon Stress: The Best Benefit to Your Company and Employees, Joe Burton, Whil
12:30 p.m. – 1:00 p.m. BSCAI Poolside Lunch
1:00 p.m. – 6:00 p.m. Catamaran Sail & Snorkeling Adventure

Saturday, January 28
7:30 a.m. – 9:00 a.m. Networking Breakfast
9:15 a.m. – 12:15 p.m. The Dynamic Team: Developing a Passion for the Profession

Schedule subject to change. For the full CEO Seminar session information, visit www.bscai.org/ceoseminar.


Recharge Your Business With Education Tailored To Your Unique Needs
This exclusive retreat provides motivational, strategic leadership seminars led by internationally recognized speakers:

Pinnacle Performance Company is a premier global communication skills training firm. We encourage behavior change by delivering our training through a transformative program, which features customized, experiential on-site workshops, virtual coaching, and blended learning.

Mark Herbick, CEO, Pursant, has been a serial entrepreneur and buyer/seller of businesses his entire life, having bought, sold and operated over a dozen companies of his own, including companies in the building services sector, and advised on countless strategic transactions in numerous sectors.

Dr. Alan Beaulieau, Principal, ITR Economics, is one of the country's most informed economists, and serves as principal and president of the Institute for Trend Research. Since 1990, he has been consulting with companies throughout the United States, Europe and Japan on how to forecast, plan and increase their profits based on business cycle trend analysis.

Joe Burton, CEO, Whil, is a C-level marketing and technology executive in the digital health and wellness space. He's spent a 20-year career in strategic and operational roles working with Fortune 500 clients, managing operations, sales & technology and launching and working with over 20 startups.
Disclaimer: Please note that Facebook comments are posted through Facebook and cannot be approved, edited or declined by CleanLink.com. The opinions expressed in Facebook comments do not necessarily reflect those of CleanLink.com or its staff. To find out more about Facebook commenting please read the Conversation Guidelines.