HP Products Revs Up For Super Bowl XLVI
posted on 1/25/2012
By Nick Bragg, Deputy Editor of Sanitary Maintenance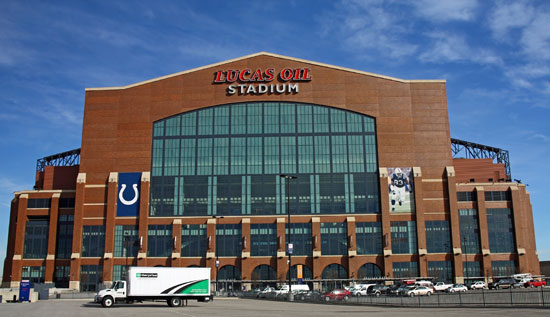 When the world's spotlight turns on Lucas Oil Stadium in Indianapolis for Super Bowl XLVI on Feb. 5, HP Products, a hometown jan/san distributor, is doing its part in making sure it shines.
With seven levels of seats, 137 corporate suites and 1,400 toilet fixtures, it won't be a surprise if Lucas Oil Stadium goes through hundreds of cases of toilet paper and paper toweling, hundreds of gallons of hand soap, as well as hundreds of can liners throughout the four quarters in which 70,000 fans are cheering on the New York Giants and New England Patriots in the NFL championship game.
Luckily for HP Products, they've had some practice.
The company has serviced the stadium year-round since it opened in 2008 and has a good hold on product usage patterns on football game days. But, since the stage is set higher for this game, and the seating has been expanded to accommodate 7,000 more fans, Jim Smith, HP Products' executive vice president says the distributor has been planning with the stadium and the Indianapolis Capital Improvement Board for the last six months to make sure everything goes as planned and that there is no shortage of product.
"The capacity at the stadium is going to be about 70,000 people," says Smith. "So, we figure that if we've got three times the number of what their normal order patterns are on the items they buy in stock, including all of the other product we have for everybody else that buys from us, we should be fine."
HP ramped up its inventory in anticipation for the game and has even parked product in downtown Indy where it can be easily accessed on game day in the event of an outage or emergency.
"We've got people that will be on stand-by shifts if they need additional product and we've arranged for credentials to get us through crowds to make deliveries if we need to if there's any critical items that need to be taken in last minute or need to be replenished during the game or shortly thereafter we have the ability to do that."
Besides the stadium itself, Smith says HP Products has also been supplying businesses in the downtown Indianapolis area near the stadium with ice melt in the event the weather is uncooperative.
"The people that come into our city, they expect us to handle large crowds and we're pretty darn good at it," says Smith, referencing the fact that they get crowds of 300,000 fans twice a year for the annual Indy Car and NASCAR races at the Indianapolis Motor Speedway. "We've been doing it for 100 years, so it's not unusual for us."
- - -
While you're huddled with friends and family around the television watching the game, here are a few fun facts to drop about Lucas Oil Field (I'd suggest bringing these out when Madonna takes the stage at halftime).
The stadium is cleaned with Green Seal Certified products.
All of the toilet tissue and paper toweling used is made from 100 percent recycled material.
The stadium also has an extensive recycling program. In 2011 Lucas Oil Stadium along with Coca-Cola, Republic Services and the U.S. Environmental Protection Agency (EPA) implemented "RecyclingIndy." With this program, it increased the awareness of recycling options with more recycling receptacles (200 throughout the stadium), which in turn increased recycling tonnage and improved the facility's environmental impact. Since opening, the stadium has incrementally increased its recycling efforts, recycling more than 22 percent of its waste in 2010.