ISSA INTERCLEAN Home
Education On The ISSA/INTERCLEAN Show Floor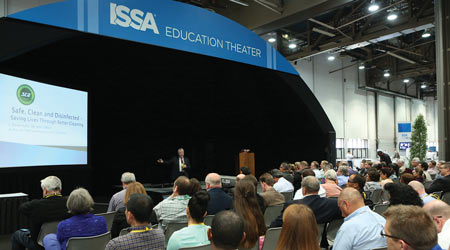 Photo courtesy of ISSA
Attendees can take a break from walking the exhibit hall and learn about email marketing, green cleaning, Millennials and more. Seminars take place at the ISSA Educational Theater, Booth 5262, on the ISSA/INTERCLEAN trade show floor.
The following seminars take place on Wednesday, Oct. 26:
Green And Sustainable Cleaning: Basics And Benefits Part 2
10 a.m. – 10:50 a.m.
Speaker: Lourdes Souza
The second of a two-part seminar conducted in Spanish that provides attendees with basics of green cleaning.
Best Practices For B2B Email Marketing Campaigns
11 a.m. – 11:50 a.m. Speaker: Jean Hanson
Email may not be dead. For B2B service companies will long sales cycles, email is ideal to stay in touch and build credibility with potential clients. Email content can also be used on your website and to create more engagement on social media. Attendees learn how to build lists, design tips, content ideas and how to grow their audience.
CMI Trainer Panel
1 p.m. – 1:50 p.m.
Speakers: Bill McGarvey, Charles Crowe and Joel Craddock
Join a panel of experts to talk about training, certifications and tips to increase the bottom line.
Using Personality Typing To Keep Customers Happy
2 p.m. – 2:50 p.m.
Speakers: Derek Christian and Liz Trotter
There are four basic customer types using the four personalities identified through a widely-used assessment. Use this knowledge to keep customers happy especially when jobs are poorly executed or damages exist. This knowledge will lead to more customer retention and a more steady cash flow.
Federal Sustainability Mandates: Go Green To Earn Green
3 p.m. – 3:50 p.m.
Speaker: John Santisteban
The U.S. federal government spends about $2 billion on facility management and services while U.S. presidential directives and procurement regulations have created a need for green and sustainable products or services. Attendees gain an understanding the federal government's procurement process, sustainability mandates, sustainable procurement and aspects of promoting and selling to this lucrative market.
The following seminars take place on Thursday, Oct. 27:
Harness The Power Of Referrals
11 a.m. – 11:50 a.m.
Speaker: Jeff Gardner
Tired of prospecting? Too busy to cold call? Then the Maximum Performance Referral System is for you. Attendees get strategies on how to leverage the power of referrals to grow their appointments and sales.
IEHA: Bridging the Gap Between Infection Control And Environmental Services
Noon – 12:50 p.m.
Speaker: Michael Patterson
The common disconnect between environmental services and infection control departments in healthcare facilities is leading to a breakdown in the care quality and ultimately ending illness and infection. Attendees learn proven strategies to work with their infection control department using communication, collaboration and cooperation.
The Profit Margin Squeeze: Millennials And The Internet
1 p.m. – 1:50 p.m.
Speaker: David Corker
Are Millennials and the Internet killing your profit margins? Explore potential pitfalls of selling on price. Discover easy steps to prepare sales staff to meet this challenge and watch your profits soar.
ARCSI In Your Community
2 p.m. – 2:50 p.m.
Speaker: Ernie Hartong
Learn how ARCSI members are productive members of their communities as they volunteer across the country with organizations and charities. Teresa Ward Community Service awards are given to three ARCSI members for their volunteer efforts.
Hiring And Evaluating Employees: Your Do's, Don'ts, and Responsibilities
3 p.m. – 3:50 p.m.
Speaker: Beth Borrego
Members of CETA will teach attendees what to ask and what not to ask potential employees during the interview process. Also gain valuable insights on how to hire good people and how to evaluate them once they are hired.
posted on 8/4/2016