ISSA INTERCLEAN Home
ISSA Friday Keynote: Steve Wozniak, Apple Co-founder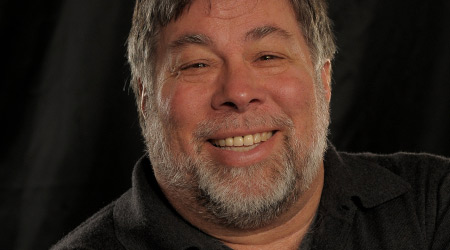 Photo Courtesy of ISSA
Steve Wozniak
Co-founder of Apple
Friday, Oct. 28
1 p.m.
Who better to talk technology and how it is changing industry and business than Silicon Valley legend Steve Wozniak? The Woz, along with Steve Jobs, co-founded Apple, where he designed the company's first line of products and had great influence on the popular Macintosh computer.
On Friday, Oct. 28, Wozniak will sit down with ISSA Executive Director John Barrett on stage for an informal Q&A "chat" and answer questions submitted by attendees. Wozniak will also share 40 years of inspiring stories of entrepreneurship, innovation and creativity as one of the most influential figures in technology and business.
Wozniak will talk about how he would apply his personal vision for the future of technology to the cleaning and facility solutions industries. Attendees will discover some of his secrets for always striving for greatness in their professional lives and as leaders in the industry.
In his early life growing up in San Jose, California, Wozniak felt a yearning to be a techie, earning his ham radio license in sixth grade before he met Jobs in high school, launching a friendship that changed consumer technology forever.
Years later, in 1976, Wozniak and Jobs founded Apple Computer Inc. to produce and sell Apple 1, the first personal computer, out of the garage of Jobs' parents' house in Palo Alto, California. The next year saw Wozniak and Jobs create Apple 2, the first personal computer with central processing unit, a keyboard and a floppy disk drive.
Wozniak earned the National Medal of Technology, an award bestowed by the President of the United States in 1985. The medal is the highest honor given to innovators in the United States. Wozniak was also inducted into the Inventors Hall of Fame and was awarded the prestigious Heinz Award for Technology, The Economy and Employment in 2000.
Wozniak left Apple in 1985 and has since been involved in philanthropy and as an advocate of technology in schools. Wozniak has donated state-of-the-art computer equipment, such as servers and laptop computers, to the Los Gatos School District in California and its students, and founded the Electronic Frontier Foundation, an organization that defends civil rights in the virtual world. He is also a founding sponsor of the Tech Museum, Silicon Valley Ballet and Children's Discovery Museum of San Jose.
Wozniak also knows how to have some fun as he has appeared on the television reality show "Kathy Griffin: My Life on the D-List" and season eight of ABC's "Dancing with the Stars."
Even after everything that Wozniak has accomplished, he is still using his entrepreneurship and visionary skills as the chief scientist at Primary Data and as an author of the New York Times best-selling autobiography, "iWoz: From Computer Geek to Cult Icon."
posted on 8/3/2016