ISSA INTERCLEAN Home
New Features For ISSA/INTERCLEAN North America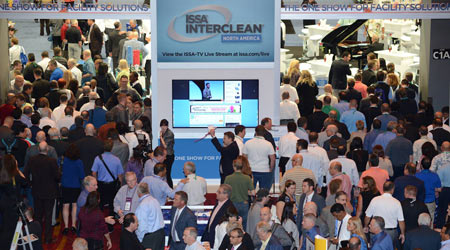 Photo courtesy of ISSA
New Education Format
The ISSA Convention consists of a new educational format that includes Flash Sessions, Deeper Dives and Ask The Experts seminars. The Flash Sessions are two, 15-minute seminars in a 30-minute block of concentrated information regarding topics such as leadership, management and sales. Deeper Dive sessions are in-depth seminars on pressing industry topics, such as infection control. Ask The Experts are panel discussions where attendees ask industry authorities their burning questions on topical issues and tough challenges.
New Attendee Orientation
Veteran show-goers and ISSA staff are available to answer questions from first-time attendees and those returning after a long absence during the New Attendee Orientation from 7:45 to 8:45 a.m. on Tuesday, Oct. 25. Attendees can get recommendations on how to navigate all of the educational sessions, networking opportunities and roundtables available at the show.
Green Clean Schools Forum
The Green Clean Schools Forum is a two-day event presented by Healthy Schools Campaign and ISSA. A series of seminars designed specifically for K-12 and higher education cleaning professionals will run throughout the day on Tuesday, Oct. 25. Topics include ways to create an assessment program, product selection, certification programs and training. The next day, there will be a personalized, small-group tour through the ISSA/INTERCLEAN exhibit hall, with specific stops at booths of manufacturers who are pertinent to green cleaning in schools and universities.
Soldier Field Facility Tour
Attendees get a chance to take a behind-the-scenes tour of Soldier Field, an iconic Chicago stadium, and get a look at how the facility is kept clean. Attendees experience first-hand strategies and techniques during the 90-minute walking tour and get rare views of the top spots in the stadium. The tour is on Friday, Oct. 28, at 2:30 p.m. The tour is included in trade show registration, but attendees must select it as an optional event when they register.
Green Sports Alliance Workshop
The Green Sports Alliance Team and ISSA are spreading the word regarding how sports venues can reduce the impacts associated with cleaning in the Chicago Greener Cleaning Workshop. Attendees get strategies on overall improvements in the cleanliness of sports facilities that have proven effective in reducing health and environmental threats. The workshop is on Thursday, Oct. 27.
posted on 8/1/2016