enMotion, SofPull and Compact Product Lines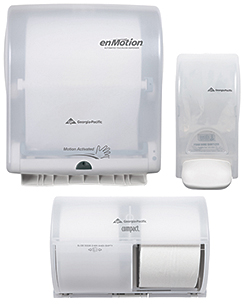 Dispensers
Georgia-Pacific Professional
Web site | Company Information

Thirteen dispensers from the enMotion, SofPull and Compact product lines are available in translucent white to provide a uniform, contemporary look for washroom areas. The dispensers offer waste-reducing benefits and require low-maintenance upkeep.
---
SPONSOR LINKS:
DISINFECTANT WIPES
Cleans, Disinfects and Deodorizes
HealthCare, Foodservice, Hospitality
Spring Grove
Towel & tissue for your restroom,
break room & foodservice areas
Palmer Fixture TD0201
A hands-free, universal towel dispenser
with a compact, modern design.
« Product Watch
Products for the Building Service Contractor, In-House Custodial Manager, & Jan/San Distributor
MOST VIEWED
PRODUCTS BY TOPIC