TB-Cide Plus II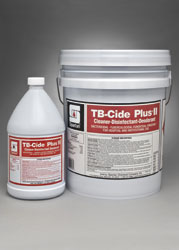 Disinfectant
Spartan Chemical Co., Inc.
Web site | Company Information
| Product Releases

The TB-Cide Plus II is a triple phenolic-based disinfectant concentrate that kills disease-causing pathogens. The product can be used on floors, walls, tile, stainless steel, aluminum, chrome, vinyl and glass surfaces. It is suited for use in operating rooms, intensive care units, clinics and restrooms.
« Product Watch
Products for the Building Service Contractor, In-House Custodial Manager, & Jan/San Distributor
PRODUCTS BY TOPIC