Softsoap Brand Foaming Hand Care Line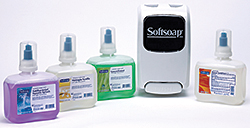 Soap & Sanitizer
Colgate Palmolive
Web site | Company Information

The Softsoap Brand Foaming Hand Care Line features both the Midnight Vanilla Foaming Hand Soap and Foaming Hand Sanitizer (non-alcohol). Both are available in 1,250-milliliter cartridges that fit into the Softsoap Brand Foaming Dispenser. The dispenser is available as a manual dispenser with push bar/large viewing window or as a touch-free dispenser.
---
SPONSOR LINKS:
Deb GrittyFOAM
The world's first heavy-duty hand
cleansing foam with bio-scrubbers.
GOJO Industries, Inc.
Discover touch free hand hygiene.
No Touch. No Problems. Guaranteed.
Kutol Hand Hygiene
Hand Soaps, Sanitizers & Dispensers.
Green Solutions. Private Branding.
« Product Watch
Products for the Building Service Contractor, In-House Custodial Manager, & Jan/San Distributor
MOST VIEWED
PRODUCTS BY TOPIC