Reliable Green Choice Foam Handwash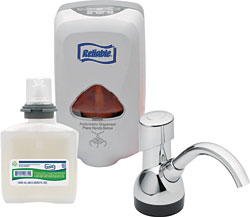 Green Hand Soap
xpedx
Web site | Company Information

Reliable Green Choice Foam Handwash features reduced human and aquatic toxicity and reduced smog production potential, meeting the Green Seal environmental standard for institutional hand cleaners. Push and touch-free dispensing is available in wall and counter mounts.
---
SPONSOR LINKS:
Deb GrittyFOAM
The world's first heavy-duty hand
cleansing foam with bio-scrubbers.
GOJO Industries, Inc.
Discover touch free hand hygiene.
No Touch. No Problems. Guaranteed.
Kutol Hand Hygiene
Hand Soaps, Sanitizers & Dispensers.
Green Solutions. Private Branding.
« Product Watch
Products for the Building Service Contractor, In-House Custodial Manager, & Jan/San Distributor
MOST VIEWED
PRODUCTS BY TOPIC