Quart r Packs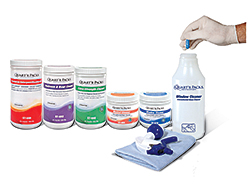 Preportioned Chemical
Stearns Packaging Corp.
Web site | Company Information
| Product Releases

Each packet of Quart'r Packs dilutes with one quart of water for spray-and-wipe cleaning and disinfecting. The powdered concentrates are packaged in a water-soluble film that dissolves quickly in water, and require no pouring, measuring or opening of packets, eliminating exposure to chemicals.
« Product Watch
Products for the Building Service Contractor, In-House Custodial Manager, & Jan/San Distributor
PRODUCTS BY TOPIC