Oil Eater Floor Cleaner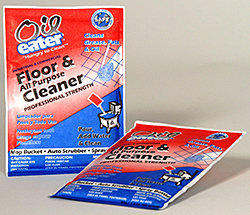 Floor Cleaner
Kafko International Ltd.
Web site | Company Information
| Product Releases

Pre-packaged in a 1.5 oz. premeasured packet, Oil Eater Floor Cleaner helps maintain proper dilution and control overuse. The highly concentrated cleaner is biodegradable, non-corrosive, non-toxic and non-flammable, and can be used in a mop bucket or floor scrubber. It also contains no acids, abrasives or petroleum solvents and comes in a case of 100 packets or in 100 lb. kegs.
« Product Watch
Products for the Building Service Contractor, In-House Custodial Manager, & Jan/San Distributor
PRODUCTS BY TOPIC