HydroLink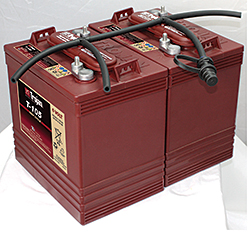 Battery Maintenance
Trojan Battery Co.
Web site | Company Information

HydroLink single-point watering system can fill a complete set of deep-cycle flooded batteries in less than 30 seconds. The system features built-in water level indicators for accurate reading of electrolyte levels without looking inside the vent wells. The product also has an automatic valve shut-off to eliminate the potential of overflow or acid splash caused by overfilling.
---
SPONSOR LINKS:
Karcher Floor Care
Innovative cleaning solutions.
Full line of floor care equipment.