Green World N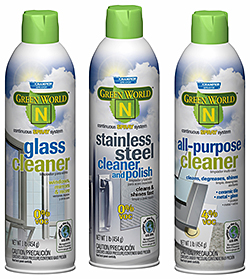 Cleaner
Chase Products Co.
Web site | Company Information

Green World N is a full assortment of continuous-spray products that has earned the U.S. EPA's DfE label. Formulated as effective and cost-effective cleaners and polishes for the Jan-San industry, they use natural, nonflammable nitrogen as a propellant, and include Stainless Steel Cleaner and Polish, Glass Cleaner, All-Purpose Cleaner, Bathroom and Tile Cleaner, Furniture Cleaner and Polish, and Dust and Mop Treatment.
---
SPONSOR LINKS:
Spring Grove
Cleaning chemicals for your restroom,
break room & foodservice areas
MARVALOSA.com
DfE Cleaner & Deodorizer with a
Distinctive Lavender Fragrance!
Disinfectant wipes
Solution to your disinfecting needs
Effectively cleans and kills germs
NCL
Cleaners and disinfectants
World Class Cleaning Solutions
« Product Watch
Products for the Building Service Contractor, In-House Custodial Manager, & Jan/San Distributor
MOST VIEWED
PRODUCTS BY TOPIC