Green Time Solutions product line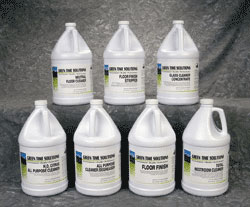 Green Product Line
Warsaw Chemical
Web site | Company Information

The environmentally-friendly Green Time Solutions product line includes an all purpose cleaner/degreaser, total restroom cleaner, glass cleaner concentrate, H2O2 citrus all purpose cleaner, neutral floor cleaner, floor finish and floor finish stripper. Some benefits include being phosphate free, zinc free, no added dyes or fragrances, no ammonia and using environmentally preferred solvents and biodegradable surfactants and ingredients. All products are either Green Seal or DfE certified.
---
SPONSOR LINKS:
Multi-Clean
Green clean using the Multi-Task
patented dilution control system
Next Gen Floor Finish
New Durable iXT Technology.
Third party certified.
Spring Grove
Cleaning chemicals for your restroom,
break room & foodservice areas
MARVALOSA.com
DfE Cleaner & Deodorizer with a
Distinctive Lavender Fragrance!
NCL
World Class Floor Care Solutions
for all types of floors.
Carpet & Upholstery Stains Gone
in an Instant with Proxi
Just Spray & Walk Away
Save Your Surfaces!
Surface Protection Film from 3M
Protect floors from the Daily Grind
NCL
Cleaners and disinfectants
World Class Cleaning Solutions
OM1 Series Green Cleaners
Exceptional Performance, Safely
Responsible. Powered by OMNIA™.
Disinfectant wipes
Solution to your disinfecting needs
Effectively cleans and kills germs
« Product Watch
Products for the Building Service Contractor, In-House Custodial Manager, & Jan/San Distributor
MOST VIEWED
PRODUCTS BY TOPIC