Germ-A-Foam Anti-bacterial and Luxury Gold Foam Skin Cleaners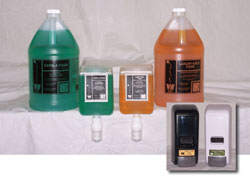 Skin Cleaner
Warsaw Chemical Co. Inc.
Web site | Company Information

Germ-A-Foam Anti-bacterial and Luxury Gold Foam Skin Cleaners are designed for the skin care needs of those who use public and private institutional and commercial facilities. Both are extra-gentle, foamy hand cleaners. Germ-A-Foam has a peach-scented thick, rich foam while Luxury Gold contains aloe vera and has a light island breeze scent.
---
SPONSOR LINKS:
Deb GrittyFOAM
The world's first heavy-duty hand
cleansing foam with bio-scrubbers.
GOJO Industries, Inc.
Discover touch free hand hygiene.
No Touch. No Problems. Guaranteed.
Kutol Hand Hygiene
Hand Soaps, Sanitizers & Dispensers.
Green Solutions. Private Branding.
« Product Watch
Products for the Building Service Contractor, In-House Custodial Manager, & Jan/San Distributor
MOST VIEWED
PRODUCTS BY TOPIC