Elite TADe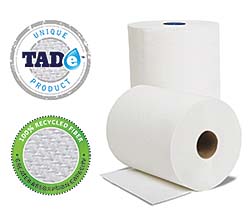 Hand Towels
Cascades Tissue Group
Web site | Company Information

Elite TADe hand towels compare with the softest and most absorbent hand towels on the market but use a considerably smaller environmental footprint. The 100 percent recycled towels are manufactured using less water and chemicals, and their manufacturing process reduces greenhouse gas (GHG) emissions by 78 percent compared to regular TAD.
---
SPONSOR LINKS:
DISINFECTANT WIPES
Cleans, Disinfects and Deodorizes
HealthCare, Foodservice, Hospitality
Spring Grove
Towel & tissue for your restroom,
break room & foodservice areas
Palmer Fixture TD0201
A hands-free, universal towel dispenser
with a compact, modern design.
« Product Watch
Products for the Building Service Contractor, In-House Custodial Manager, & Jan/San Distributor
MOST VIEWED
PRODUCTS BY TOPIC