EcoChoice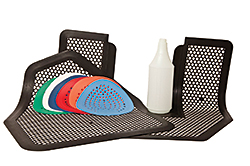 Biodegradable Plastics
Tolco Corp.
Web site | Company Information

EcoChoice products incorporate a proprietary additive that has no effect on plastic's durability, performance or recyclability, yet renders the plastic biodegradable when disposed of in a landfill or compost pile. Consumers can choose to recycle or dispose of the product. It can be applied to urinal screens, urinal mats and other plastic products.
---
SPONSOR LINKS:
Nothing left behind.
With Full Cycle™ floor pads
No dirt on floors or waste in landfills!
« Product Watch
Products for the Building Service Contractor, In-House Custodial Manager, & Jan/San Distributor
MOST VIEWED
PRODUCTS BY TOPIC