ES650C Degreaser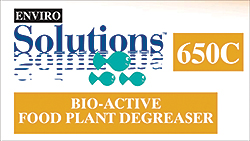 Degreaser
Enviro-Solutions Ltd.
Web site | Company Information

ES650C degreaser is a biotechnological product specially formulated to digest oils, grease and other soils on floors, even after the initial cleaning. The product eliminates feeding sources to help reduce pests. The degreaser is EcoLogo certified.
---
SPONSOR LINKS:
MARVALOSA.com
DfE Cleaner & Deodorizer with a
Distinctive Lavender Fragrance!
Spring Grove
Cleaning chemicals for your restroom,
break room & foodservice areas
NCL
Cleaners and disinfectants
World Class Cleaning Solutions
Disinfectant wipes
Solution to your disinfecting needs
Effectively cleans and kills germs
« Product Watch
Products for the Building Service Contractor, In-House Custodial Manager, & Jan/San Distributor
MOST VIEWED
PRODUCTS BY TOPIC