Compact Quad Dispenser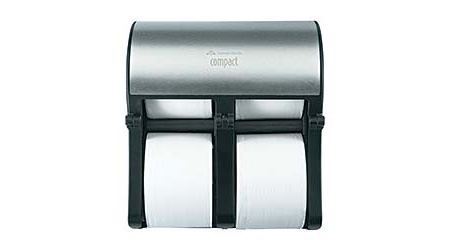 Tissue Dispenser
Georgia-Pacific Professional
Web site | Company Information

The Compact Quad dispenser holds four coreless tissue rolls — up to 6,000 two-ply sheets or 12,000 one-ply sheets between refills. The dispenser features a roll-advancing system, fits into mounting holes used for the Compact High Capacity Dispenser and mounts onto all restroom surfaces. Compact Quad features face-forward tabbing and comes in multiple colors.
---
SPONSOR LINKS:
Palmer Fixture
A hygienic towel dispenser that is…
Automatic, Universal, & Saves Paper
DISINFECTANT WIPES
Cleans, Disinfects and Deodorizes
HealthCare, Foodservice, Hospitality
GOJO Industries, Inc.
Discover touch free hand hygiene.
No Touch. No Problems. Guaranteed.
Smarter Restrooms
Make the move to the Nvi®
automated tissue dispensing system.