Readers Of This Article, Also View:
Reduce Cost, Improve Floor Care Equipment Productivity with Training -

Sponsored Learning
Nothing Stands In Their Way
2016 Sales Leader: Jack Loughrey, Dalco Enterprises
---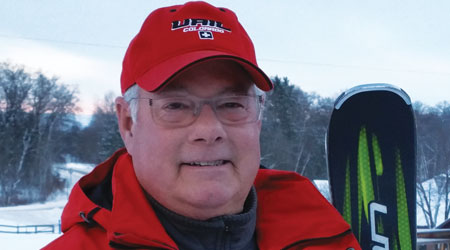 From junior high through college, if Jack Loughrey stuck his hand out for money, his dad, Bob Loughrey, an industry sales rep, usually put a mop handle in it.

"My dad's customers would say, 'Hey Bob, I want my floors stripped. My guys don't have time, do you have a crew?' Well, his crew was his four sons," says Jack. "My three brothers and I would end up doing floor jobs."

Bob, who passed away in 2006, ironically, was once a competitor of Jack's current employer, Dalco Enterprises, Inc., in New Brighton, Minnesota.

"Dalco's CEO, Ted Stark Jr., every once in awhile will see me and make mention of my father and how tough it was to get an account away from my dad," says Jack. "It's kind of funny."

Jack began his career in the jan/san industry in 1980, selling alongside his father. Taken under his dad's wing, Bob gave Jack some sage advice very early in his career.

"My father told me to always put the best interest of your customer first," he says. "And that's what I try to do all the time. If it's good for the customer, than everything else is going to take care of itself. Always put the customer first."

Those words of wisdom have stayed top-of-mind for the entirety of Jack's highly successful 37-year run in the industry — a run that has seen him work his way up to co-owning his own distribution company, which he sold to Dalco in December 2002. Now, in his current role as an account manager for Dalco, Jack says he's enjoying his career more than ever before.

"I'm working harder. I'm working more hours than I ever have, but I really enjoy it because Dalco is such a great team and our customers appreciate us," he says. "And that's what really breeds that loyalty, because we do take care of our customers."

Because Jack has previous experience as an owner, his peers say it gives him a unique selling advantage.

"He has nearly 30 years of sales, key account and business development experience," says Barbara Grundman, marketing manager at Dalco. "All of which have honed his talent in relationship building, sales strategy and team leadership."

With experience also comes success. Jack is a consistent member of the $1 million sales club and was the recipient of Dalco's President's Award four times (2009-2013). He credits his success to an extremely loyal customer base.

Mike Kopietz of Forest Lake Area Schools in Forest Lake, Minnesota, has been a customer of Jack's for over 13 years. He says Jack is very responsive no matter their need, is very detail oriented and has great follow-through.

"Any way that I can help them, whether it's efficiencies or economies or procedures or best practices or new innovative technologies," says Jack. "Whatever I can do to help them make their job either easier or help them be more proficient at what it is that they do — that's what I do."
previous page of this article:
2016 Sales Leader: Shirley Coleman, Dutch Hollow Supplies
next page of this article:
2016 Sales Leader: Lisa Nichols, Industrial Soap Company
Disclaimer: Please note that Facebook comments are posted through Facebook and cannot be approved, edited or declined by CleanLink.com. The opinions expressed in Facebook comments do not necessarily reflect those of CleanLink.com or its staff. To find out more about Facebook commenting please read the Conversation Guidelines.