Product Watch
Hydrogen Peroxide Multi-Purpose & Disinfectant Program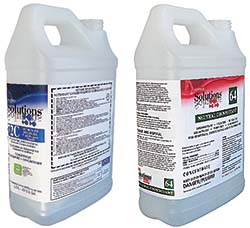 Charlotte Products Ltd.
Website
|
Company Information
|
Product Releases
Product Type:
Cleaner and Disinfectant
Hydrogen Peroxide Multi-Purpose & Disinfectant Program allows janitors to thoroughly clean and disinfect nearly every surface in a facility. ES72 Hydrogen Multi-Purpose Cleaner is a high-grade, readily biodegradable surfactant enhanced formulation with the power of hydrogen peroxide for cleaning surfaces. After use, janitors can effectively disinfect high-touch contact surfaces with ES64 Neutral PH Cleaner Disinfectant/Deodorizer.
Products for the Building Service Contractor, In-House Custodial Manager & Jan/San Distributor