Readers Of This Article, Also View:
Reduce Cost, Improve Floor Care Equipment Productivity with Training -

Sponsored Learning
Robots Roam The Halls
University Benefits From Robotic Equipment
---
BY Corinne Zudonyi, Editor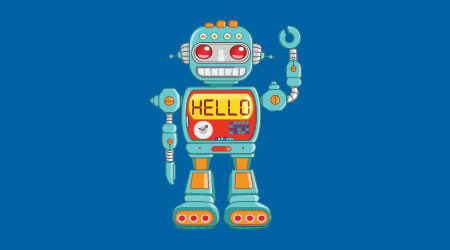 Founded in 1829, Rochester Institute of Technology (RIT) is a prestigious university that is recognized as a leader in technology. It's common practice to apply cutting-edge technology to various aspects of the university's operations, and the cleaning program is no exception.

"RIT wanted to be the leader in the use of robotics in a magnitude of areas and aspects — everything from grounds, public safety, maintenance, transportation, dining services and custodial," says Chuck VanMaldeghem, building services supervisor, facilities management services.

Although robotic cleaning equipment was relatively new, VanMaldeghem began researching options back in 2014. He then implemented a robotic autoscrubber in 2015.

"The proposal was presented to and readily accepted by senior leadership," he says. "The goal is to be a leader, so this was an easy part of the process."

Cleaning staff and building occupants were also quick to accept the new technology. It was as simple as showing the machine in action.

"Once the staff saw the unit in operation, they were impressed with the capabilities and overall performance," he says. "The reaction from students, faculty and staff has also been tremendous."

From a budget standpoint, VanMaldeghem utilized the software offerings on the equipment to calculate the return on investment for his 4 million square feet of cleanable space.

"The report functions calculated approximately seven to 10 hours of labor savings per week," he says. "This freed up staff to perform other tasks, or increased cleaning frequencies in areas of greater concern."

Incorporating robotics at RIT years ago has definitely resulted in positive gains for the custodial department, but VanMaldeghem admits there is room for growth. Technology has advanced substantially in the two years since he first implemented his machine.

Newer equipment can cover larger areas, get closer to walls/obstructions, move quicker and react better. There are also more options available, as additional manufacturers have entered the marketplace.

"Robotic technology means time savings and a reduction of routine and fatiguing tasks," says VanMaldeghem. "I'd advise other managers to get on board early with this technology, or get left behind."
previous page of this article:
Floor Equipment That Collects Data
Disclaimer: Please note that Facebook comments are posted through Facebook and cannot be approved, edited or declined by CleanLink.com. The opinions expressed in Facebook comments do not necessarily reflect those of CleanLink.com or its staff. To find out more about Facebook commenting please read the Conversation Guidelines.